Jura Anchor is a novel way to manage your AirPods or AirPods Pro that is so simple and neat, it borderlines on over-engineered. Available in multiple colors and multiple materials, it may be the latest must-have accessory for your true wireless earbuds.
The idea behind Jura is simple — utilize the Lightning port of your AirPods or AirPods Pro case as an anchor point to either clip your earbuds to your bag or clip something to the earbuds themselves.
It is much easier to keep track of your AirPods case when affixed to the outside of a bag rather than tucked away into a deep pocket. It is also a great way to connect things to your AirPods such as a Tile Bluetooth tracker or a spare key.
How it works
Jura Anchor's design is very simple, consisting of a curved piece of plastic trim that wraps around the sides of your AirPods or AirPods Pro charging case. This seems mostly decorative, as the real magic is the metal faux Lightning connector that plugs into the Lightning charging port.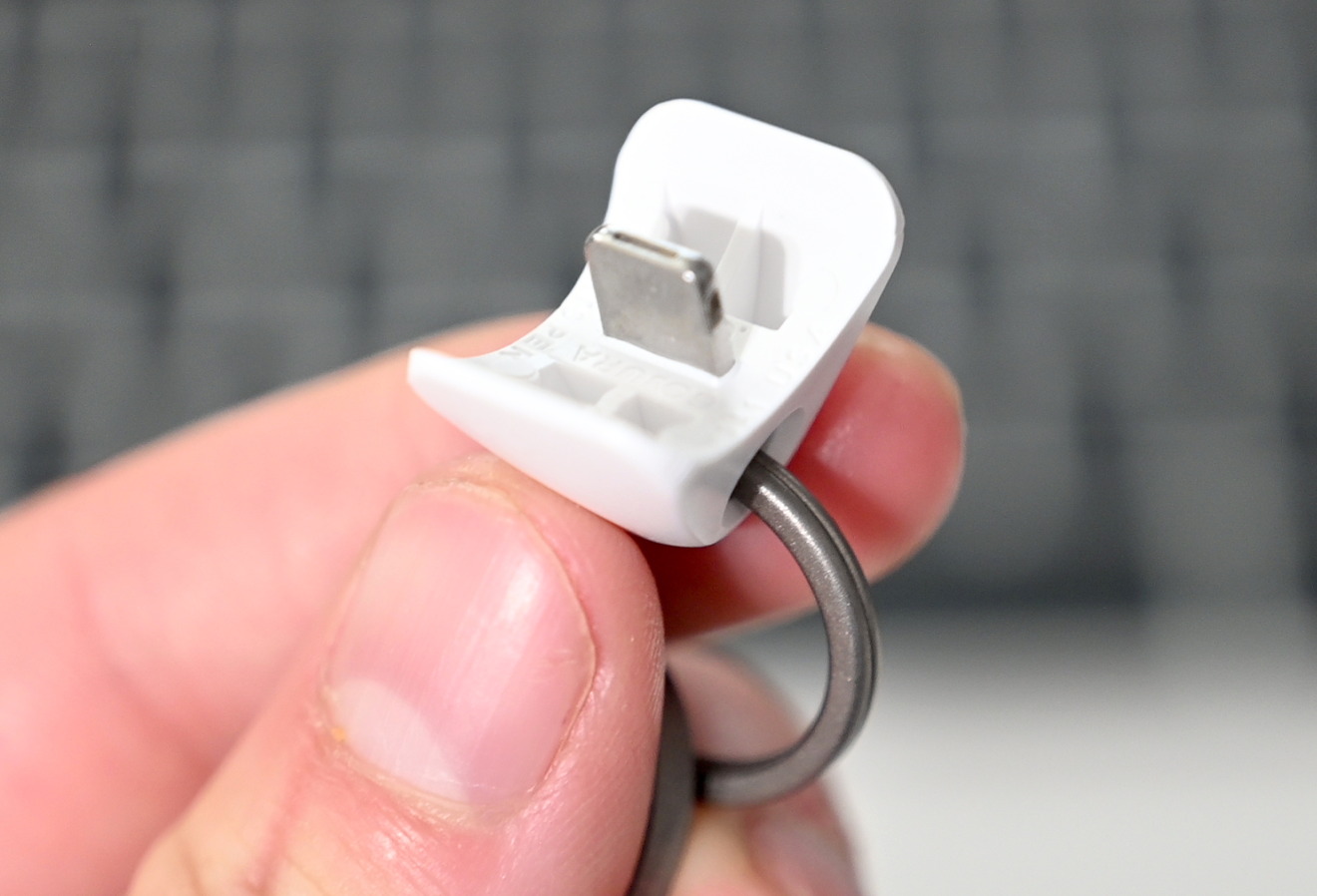 Anchor connects to the AirPods Lightning port
This metal connector doesn't charge your AirPods in any capacity, but rather relies on the strength of Apple's quintessential port. There are pins on either side of the connector, holding tight to prevent your cable from coming free.
The Lightning port can easily hold the Jura Anchor and up to 15 times the weight of the AirPods without any damage at all. The connector is designed to sit firmly in place without any chance of damage to the charging port.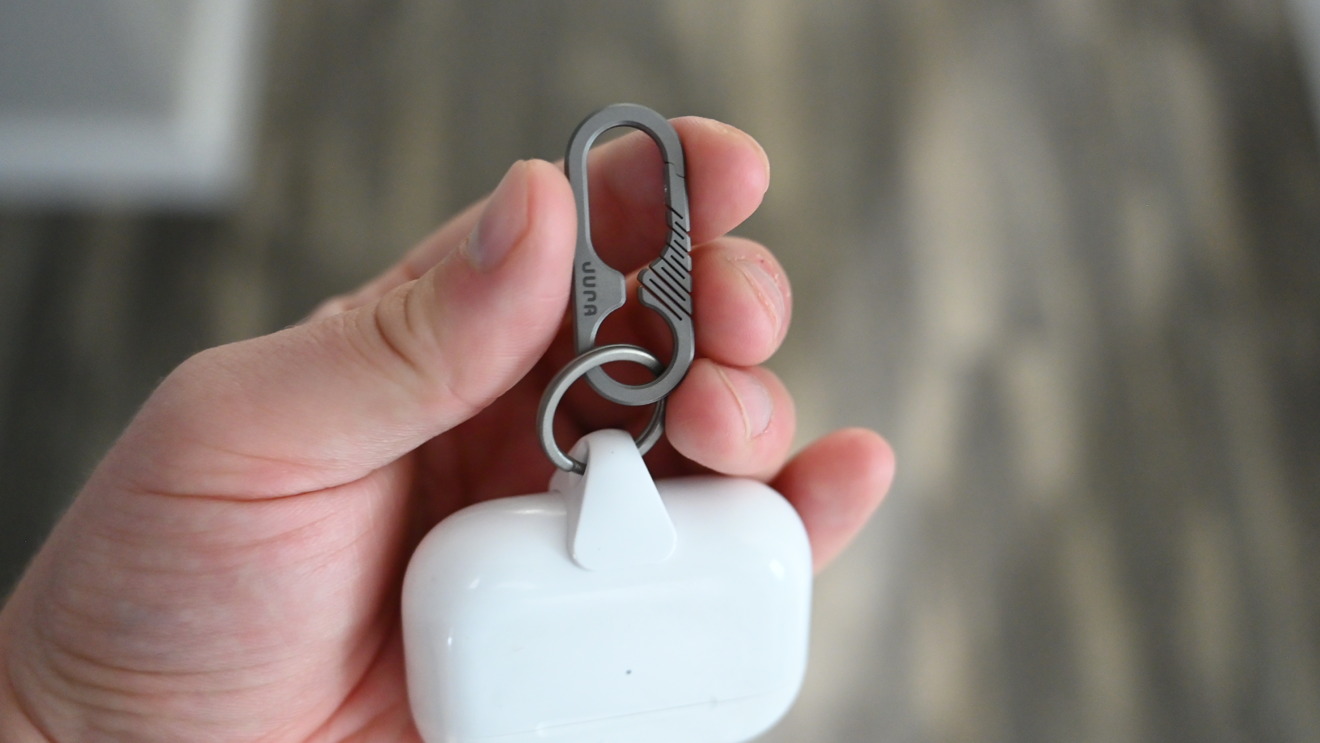 Jura Anchor in titanium
We've tried the Jura Anchor on the outside of our bag, on our pocket, as a key ring, and to hold a Tile, and never once did it even get close to coming free. If something hit your bag particularly hard we could see it coming free, but it would certainly be noticed.
Clipping your AirPods on the outside of your bag also isn't always a good idea either. If you're in a busy area, it is far too easy for a villainous passerby to nab them and take off, though it is less of an issue for the gym, a plane, or a hike.
Using the Tile with Anchor can be particularly useful for those who are a bit on the absent-minded side.
Apple has its own Find My feature for AirPods, but it is more useful to find an earbud that fell down the back of the couch rather than find the headphones altogether. Tile makes it so much easier to track them down when the case falls into the couch, the car, the bed, or wherever you left them.
Materials
There are two versions of the Jura Anchor, made from titanium and a zinc alloy. The zinc alloy model feels fairly standard, with a smooth exterior and a standard spring-based clip.
The zinc alloy model ships in four finishes — silver, gray, black, and rose gold. If you're looking for more personality, then these versions may be preferred since the titanium is only available in one colorway.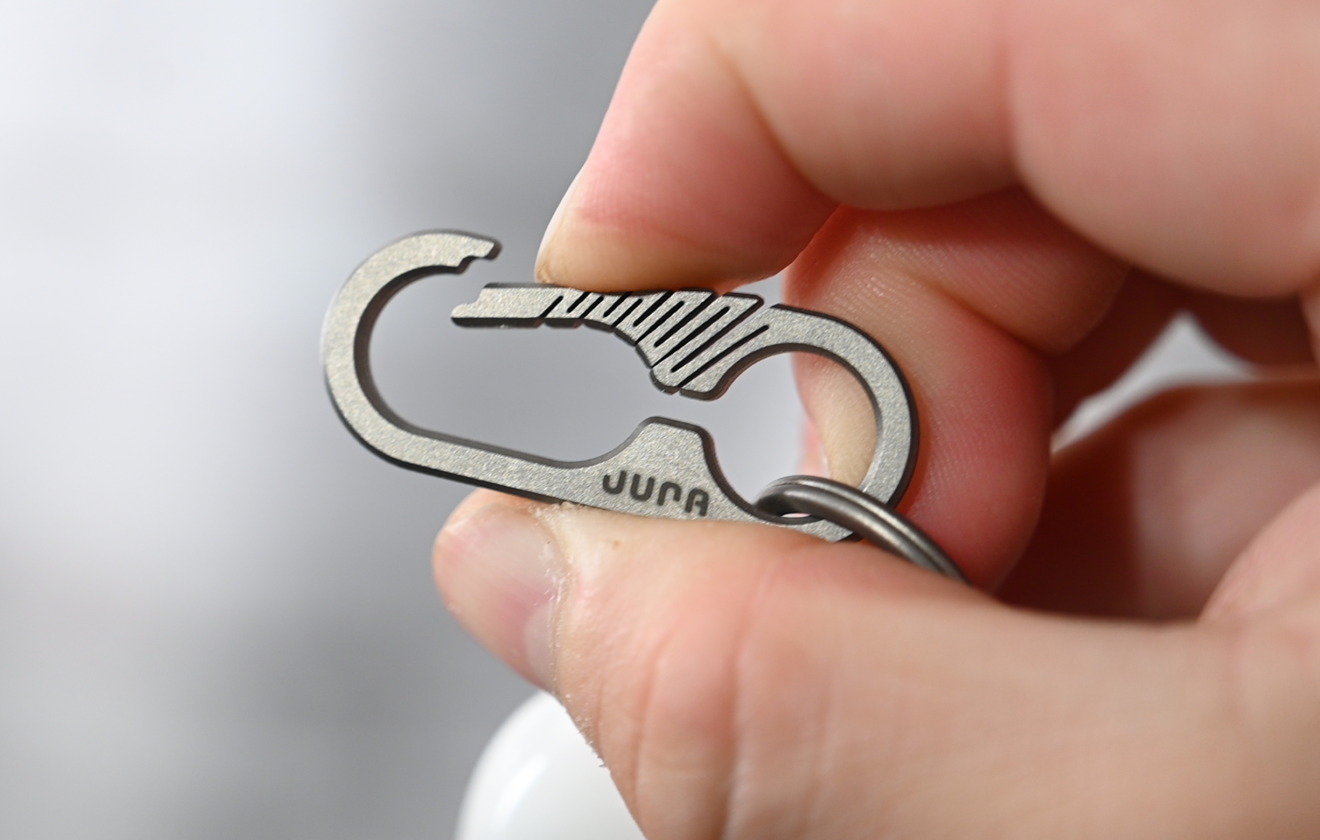 Jura created a custom carabiner
Aside from the different material, the titanium also has a unique design, precision cut in an accordion style that gives it a natural spring-like effect. This proprietary connector looks cool as well as being functional.
Titanium's lightweight combined with massive strength is perfect for a carabiner such as this.
Should you buy the Jura Anchor?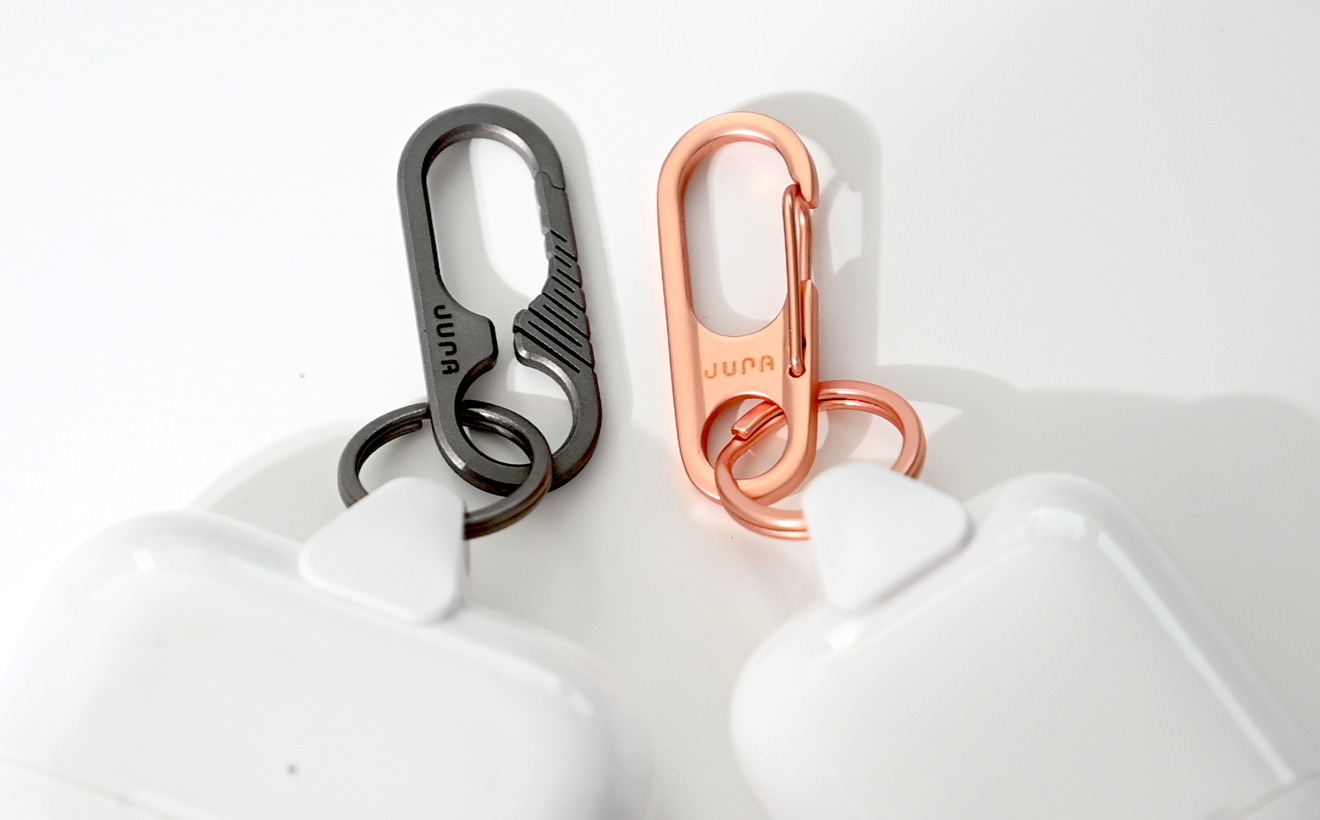 The Jura Anchor in titanium and the rose gold zinc alloy
Adding a clip to our AirPods is a totally worthwhile accessory, as it helps us keep track of them and adds minimal bulk.
Anchor is so well designed that it's surprising no one else has thought about this. Jura could have created the connector and added any carabiner and called it a day, but the team set out to create its own custom clip utilizing the best materials.
We've tried protective cases for our AirPods, but so many people balk at the idea of adding more size to the diminutive AirPods, and we get it. But Anchor is small enough to be useful without being a burden, and it comes off instantly without fuss when you don't need it.
Very clever design
Two material choices
Custom-designed titanium clip
Multiple colors of zinc alloy
Practical and helpful
Surprisingly strong
Still a chance for theft if on your bag
Need to be removed to use the port
Expensive compared to full case options
Rating: 4 out of 5
Where to buy