Apple on Monday offered a glimpse into its soon-to-open Marina Bay Sands store in Singapore, the first of the company's outlets to sit directly on a body of water.
Located at the foot of the luxurious Marina Bay Sands hotel and resort, Apple's newest store is lauded as its "most ambitious retail project" to date.
The spherical structure is a self-supported, all-glass dome crafted from 114 pieces of glass connected with 10 vertical mullions, the company says. Through the glass facade, shoppers are treated to stunning 360-degree views of Singapore's Marina Bay and adjacent skyline.
Custom designed baffles are shaped and positioned along the dome's interior to block incoming sun, keeping customers comfortable while providing a nighttime lighting effect. Trees in large planters line the perimeter of the show floor for additional shade and a touch of green.
Dramatically positioned at the dome's apex is an oculus that draws sunlight into all areas of the building. The architectural flourish was inspired by the Parthenon in Rome.
"We couldn't be more excited to open the breathtaking Apple Marina Bay Sands in Singapore, building on our commitment to this special place that began more than 40 years ago," said Deirdre O'Brien, Apple's senior vice president of Retail + People. "Our passionate and talented team is ready to welcome this community to our new store and deliver the care and support that our customers around the world love."
Apple Marina Bay Sands includes a Forum, product showroom and the company's first underwater Boardroom. The forum will host Today at Apple sessions, while the Boardroom is set for sales and support meetings with small local businesses. Supporting the store is a 148-person team who collectively speak over 23 languages.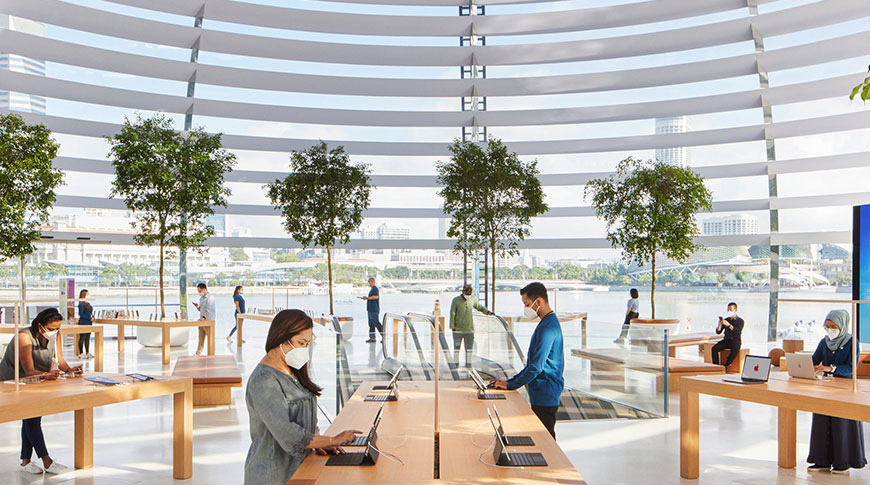 Apple first opened a corporate office in Singapore's Ang Mo Kio district more than 40 years ago. In 1981, the outfit was responsible for producing a bulk of the printed circuit boards needed for Apple II computers. Apple now supports more than 55,000 jobs in the region.
Apple Marina Bay Sands opens on Thursday at 10 a.m. local time. Along with standard coronavirus protocols — mask requirement, temperature checks and social distancing — Apple is restricting store visits to scheduled appointments. Those interested can sign up for a time slot through Apple's website.