Ahead of Apple's iPhone launch season, investment bank JP Morgan says that an August rebound in Chinese mobile device shipment in indicates improving momentum for the smartphone market.
In a note to investors seen by AppleInsider, JP Morgan analyst Samik Chatterjee provided an update on Chinese mobile device shipments based on new China Academy of Information and Communications Technology (CAICT) data. According to the CAICT, smartphone shipments rebounded month-over-month in August after three consecutive months of decline.
While domestic Chinese manufacturers saw their shipments rise about 18% month-over-month, shipments of smartphones produced by foreign firms — and primarily Apple — rose 56% over the same period.
International brands shipped 2.5 million units throughout China in August. That's up a full 2 million since coronavirus-related slumps in February caused shipments to plunge to 500,000 units.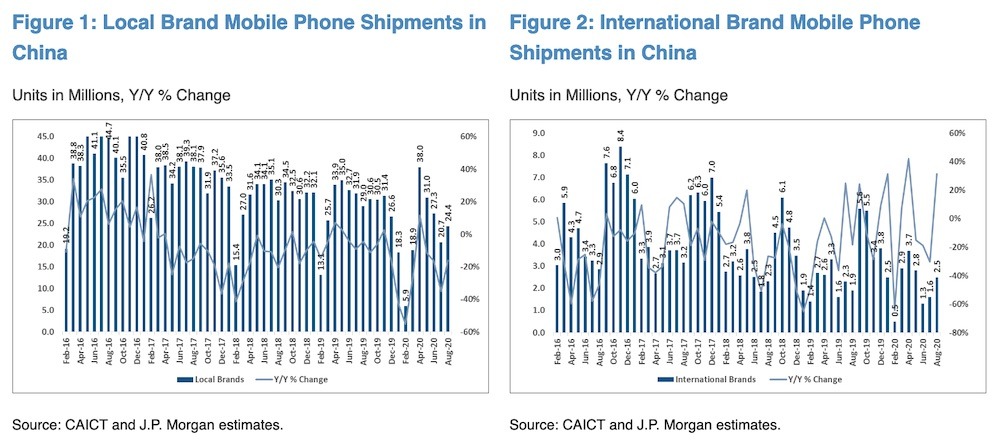 Credit: JP Morgan
Total smartphone shipments are suggested to decline to 26.9 million in August, a 13% year-over-year decrease. That suggests shipments are moderating from the 35% year-over-year decline in July.
Ahead of Apple's "iPhone 12" launch, the CAICT disclosed that shipments of 5G devices rose 17% month-over-month to a total of 16.2 million units. Per the data, 5G-equipped devices accounted for 60% of the total devices shipped.
According to JP Morgan China analyst Kevin Zhang, the bank's research indicates that the year-over-year decline of smartphone sell-through in China has narrowed to about 8% in August. Per the research, Chinese domestic brands are now attempting to secure more supply chain resources in the wake of Huawei trade restrictions. Global brands are also releasing more mid-to-low-end devices, though volume ramp will likely be on hold until cheaper 5G chips are produced.
Chatterjee forecasts that the improving smartphone shipments could serve to "assuage investor concerns" of a slowdown for Apple in China. The Cupertino tech giant is largely expected to release four new iPhone models by October, including a 5.4-inch and 6.1-inch "iPhone 12," and high-end 6.1-inch and 6.7-inch "iPhone 12 Pro" devices.