Take movie night with you with this pint-sized projector that boasts built-in apps, a three-hour battery life, and a surprisingly sharp image.
The PicoPix Max is a portable projector that can easily hitch a ride in a backpack, messenger bag, laptop bag, or luggage. It features a built-in battery capable of powering the projector for up three hours, making it an ideal companion for meeting rooms, camping trips, or back yard movie nights.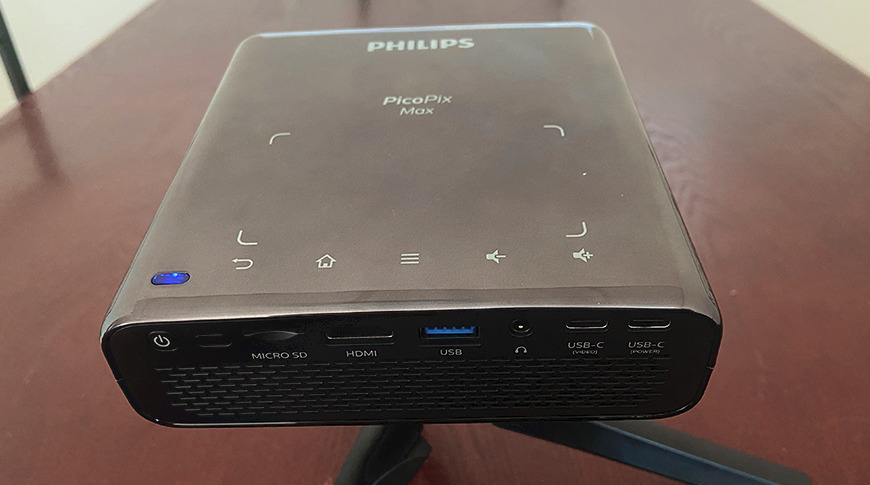 On top of the projector, a built-in trackpad allows you to navigate the built-in Android operating system easily. It also features volume buttons, home buttons, and more. On the bottom, there's a standard tripod mount hole, which works perfectly with the included tripod.
Using the projector is easy, with its own operating system having Netflix, Hulu, and YouTube apps built-in so you can watch your favorite content cord-free. As it is an Android device, you can also download thousands of apps directly to the device, including apps like Microsoft Office.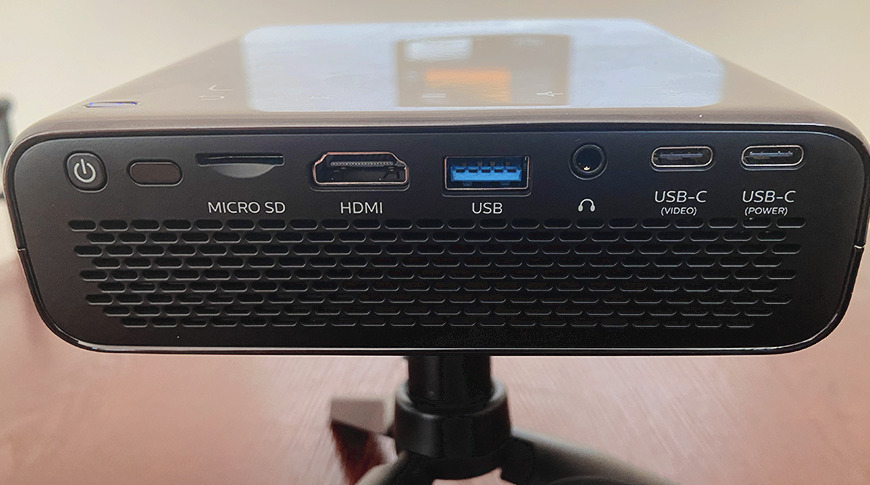 The back, featuring multiple ports
It also boasts a USB-C video-in port as well as an HDMI port, making it simple to connect to your MacBook Pro, Apple TV, or favorite gaming console. A USB port and a microSD card allow you to access files on removable media, too.
It also features a built-in speaker, which means you don't need to worry about bringing your own when you need to be able to play audio.
The onboard Bluetooth allows you to connect all kinds of devices to it, too. You can pair a set of Bluetooth headphones for non-disruptive listening, a mouse and keyboard for a tablet-like setup, or your favorite Bluetooth soundbar for an immersive movie experience.
Performance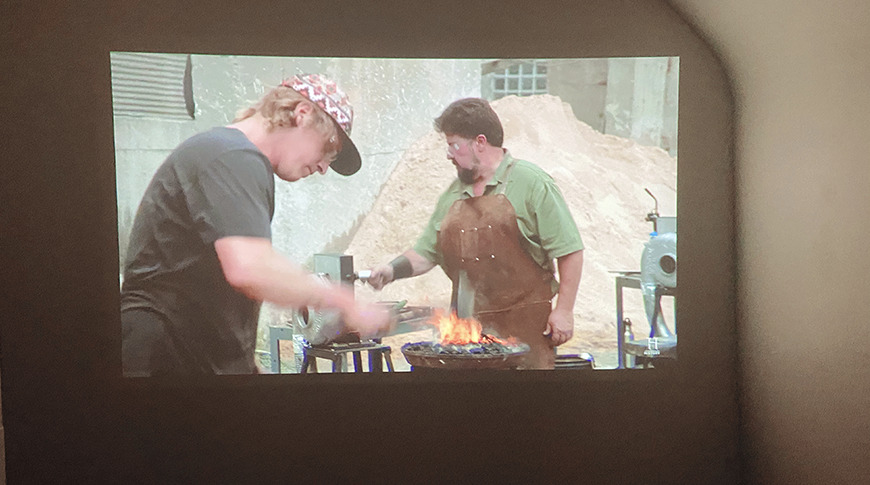 The image is wonderfully crisp in a dark room
The PicoPix Max is a thoughtfully-designed, reliable projector. It features an excellent auto-focus feature that was able to dial in a crisp and clear image in a matter of seconds, which saves a lot of time over doing it manually.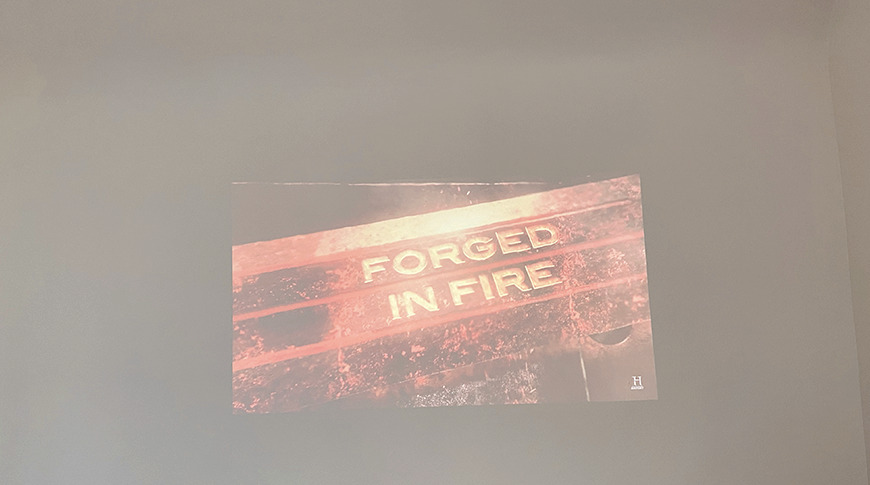 The image is surprisingly visible, even in a fully sunlit room
The image is bright even in well-lit rooms, and the color is surprisingly vibrant for a projector. As a projector, it's only going to have as much contrast as what you project it on, so a well-lit room with a white wall will wash out. Even so, we were still impressed with how well it managed.
As far as sound quality goes, it's not the best, but it's not the worst either. If you're planning on using this projector for movies or TV shows, we suggest investing in a decent quality soundbar or speaker to pair with it.
The built-in operating system is pretty good. While we're not usually fans of custom Android systems, we found it pretty easy to navigate. We didn't have any issues with lag or stuttering video, either.
We highly suggest that if you snag one for yourself, make sure you keep it updated with the latest firmware and run the optimization feature regularly.
A note about the bulb
The PicoPix Max doesn't have a traditional projector lamp bulb and instead has a high powered LED. It projects at 850 lumens and is rated to last over 30,000 hours.
Since it's an LED, it isn't replaceable, but it's not a problem. By contrast, a traditional projector bulb only lasts 2,000 hours — the PicoPix Max bulb has an expected lifespan of fifteen times longer.
If you were to watch three movies a week, you'd effectively get over 100 years' worth of use from the LED. Even assuming you were to use it for four hours a day every single day, that's still roughly two decades of service before the LED ceases to work.
A note about the operating system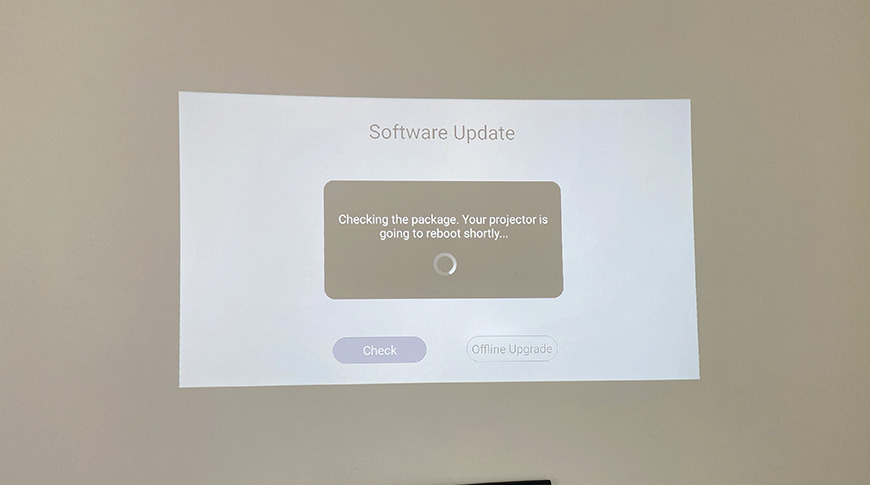 Keep your PicoPix Max updated regularly!
Philips says that they're planning on supporting the PicoPix Max for two years, including regular firmware updates that can be downloaded from within the settings menu.
We'd prefer it if they extended that to five years, especially considering the price tag, but there has been a noticeable downward trend in how long a developer is willing to support a device.
A note about the remote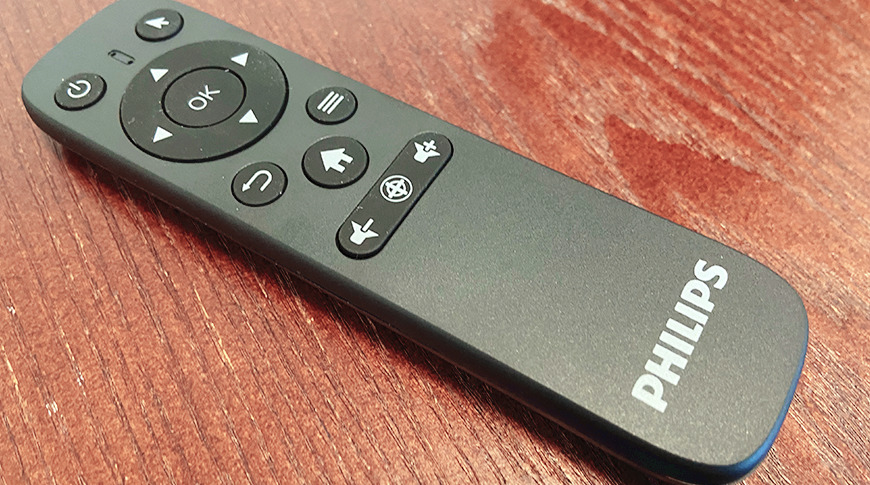 The remote is easily the most disappointing part of the projector
We were somewhat disappointed in the remote. To have it work properly, you'll need to have a clean line of sight to the projector. If you put the projector off to the side of you, behind you, or above you, it's not always the easiest to control it with the remote.
It's not a major issue if you're settling in for a Netflix or Hulu binge, but it can be a bit bothersome if you're using it to browse shorter form content like YouTube videos. We have a suggestion, though: If your iPhone is on the same WiFi network as the projector, you can quickly AirCast videos from your phone to the PicoPix Max.
Overall
The PicoPix Max is an excellent addition to your tech arsenal if you're the type of person who enjoys the occasional big-screen experience but doesn't plan on creating a dedicated space in their home for a theater room. As stated, it's the perfect solution for a back yard movie night or camping trips.
Rating: 3.5 stars out of 5
Excellent auto-focus feature
3 hour battery life
Smooth operation, no lag
Bright, crisp image with excellent color
Built-in apps with the ability to download more
30,000-hour bulb life
Remote requires direct line of site to operate
Mediocre sound quality
Steep price compared to traditional projectors