AppleInsider recaps what was released during Tuesday's "Time Flies" Apple event, and offers insight into what we think are the most impressive things about it, and most disappointing releases — plus what we hope to see from Apple in the future.
On Tuesday, Apple held its "Time Flies" event, a remote show that gave Apple fans, tech-junkies, and press alike a look at the newest offerings from Apple. While the "iPhone 12" wasn't included, it delivered plenty of refreshed hardware, new services, and a glimps of what is to come in the future. Here's a quick recap of everything that Apple announced at Tuesday's event.
Apple Watch Series 6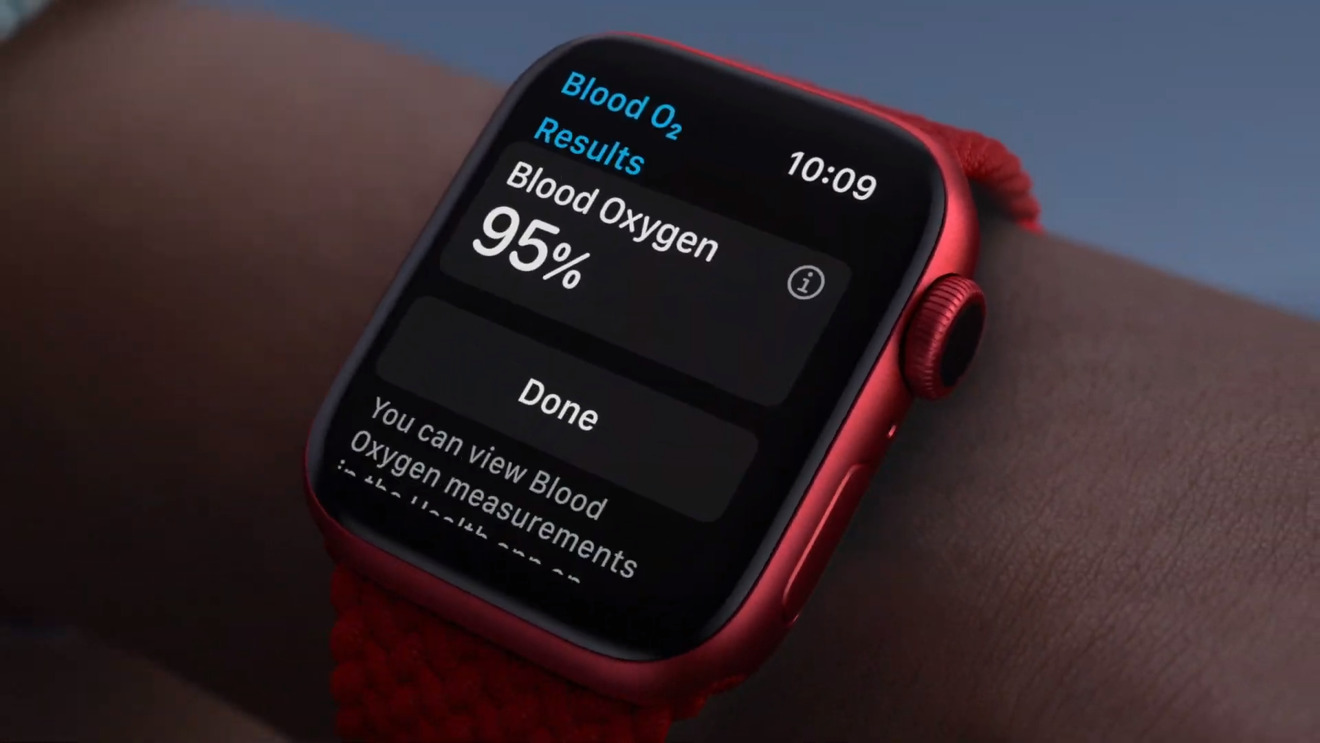 The Apple Watch Series 6 now features blood oxygen saturation monitoring, a built-in altimeter, and improved battery life to keep up with the most active wearers. An improved always-on display is up to 2.5 times brighter than the one included in the Apple Watch Series 5.
A new S6 chipset is 20% faster than the previous generation, and a U1 chip and Ultra Wideband suggest integration with future Nearby Experiences.
Apple Watch SE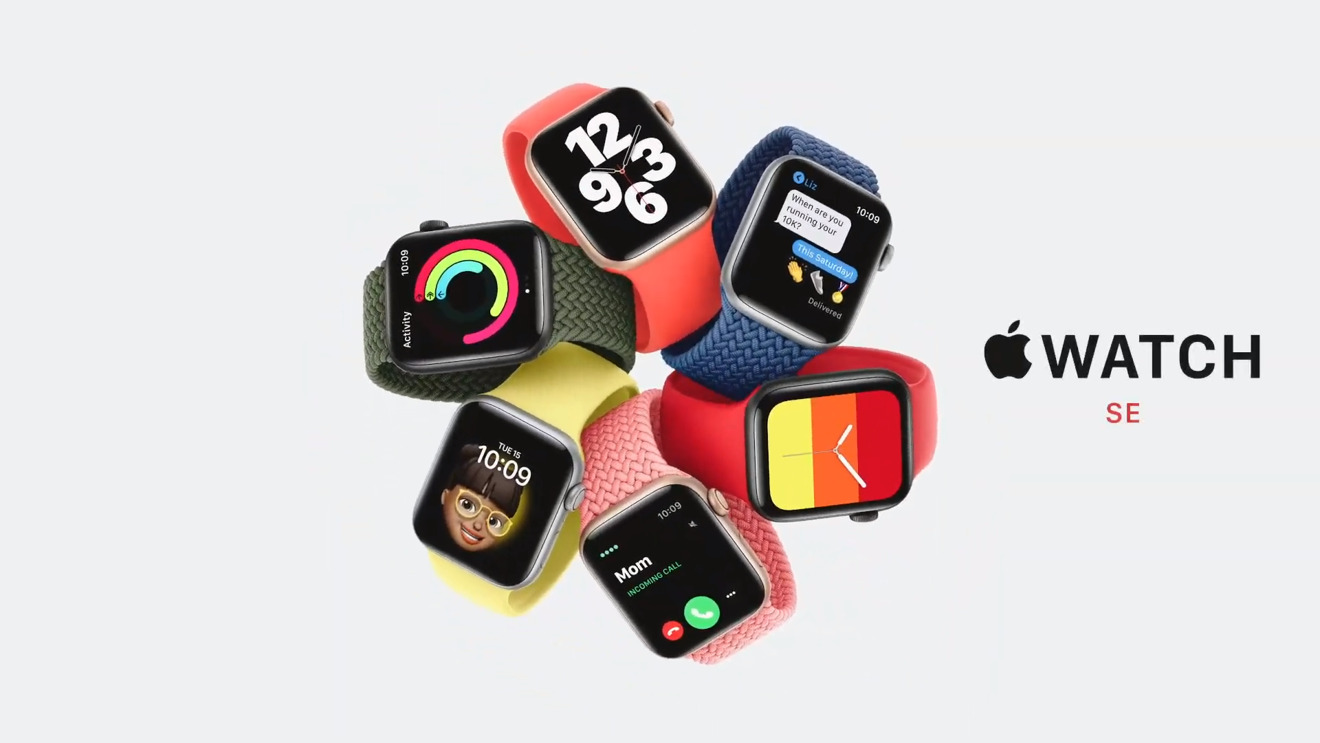 The Apple Watch SE is a feature-packed entry-level wearable
Apple has introduced a new, budget-minded Apple Watch in the same vein as the iPhone SE — the Apple Watch SE.
While it lacks the blood oxygen detection, ECG, and always-on display of the higher-end model, it does share many of the same health-tracking features.
The Apple Watch SE comes equipped with heart rate monitoring, fall detection, noise monitoring, and sleep tracking options. For active users, Apple made sure that the Apple Watch SE is swim-proof and has a built-in altimeter that shows changes in elevation as little as a single foot.
iPad Air (Fourth Generation)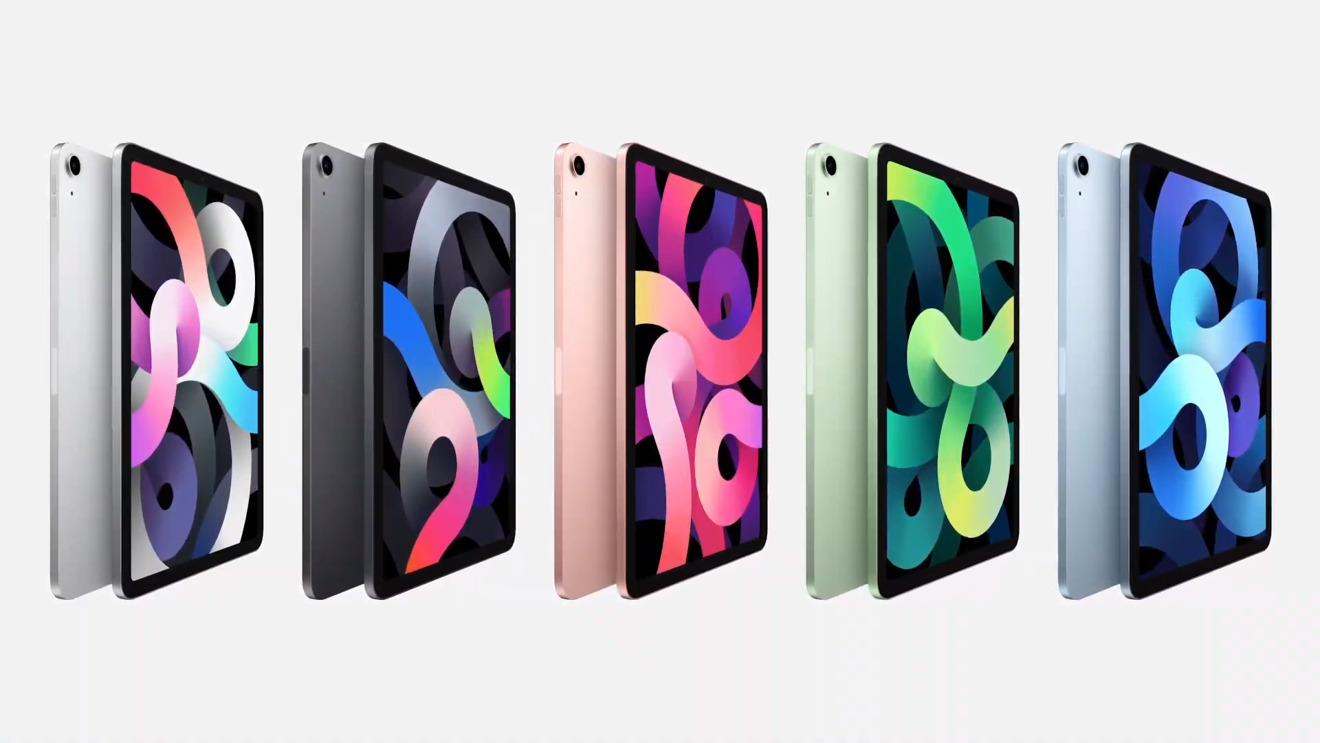 The refreshed, fourth-generation iPad Air
Apple's iPad Air got a refresh as well, now available in two new colors — green and sky blue — alongside the usual trio to space gray, silver, and rose gold.
Beyond cosmetic changes, the fourth-generation iPad Air gained some impressive hardware upgrades, too. It now features Apple's A14 Bionic SoC, an upgraded 12-megapixel rear camera, and a USB-C port instead of a Lightning port.
It also boasts a new 10.9-inch edge-to-edge Liquid Retina display and a lock button that features a newly designed Touch ID.
Also new to iPad Air is support for the second-generation Apple Pencil and Apple's 11-inch Magic Keyboard.
iPad (Eighth Generation)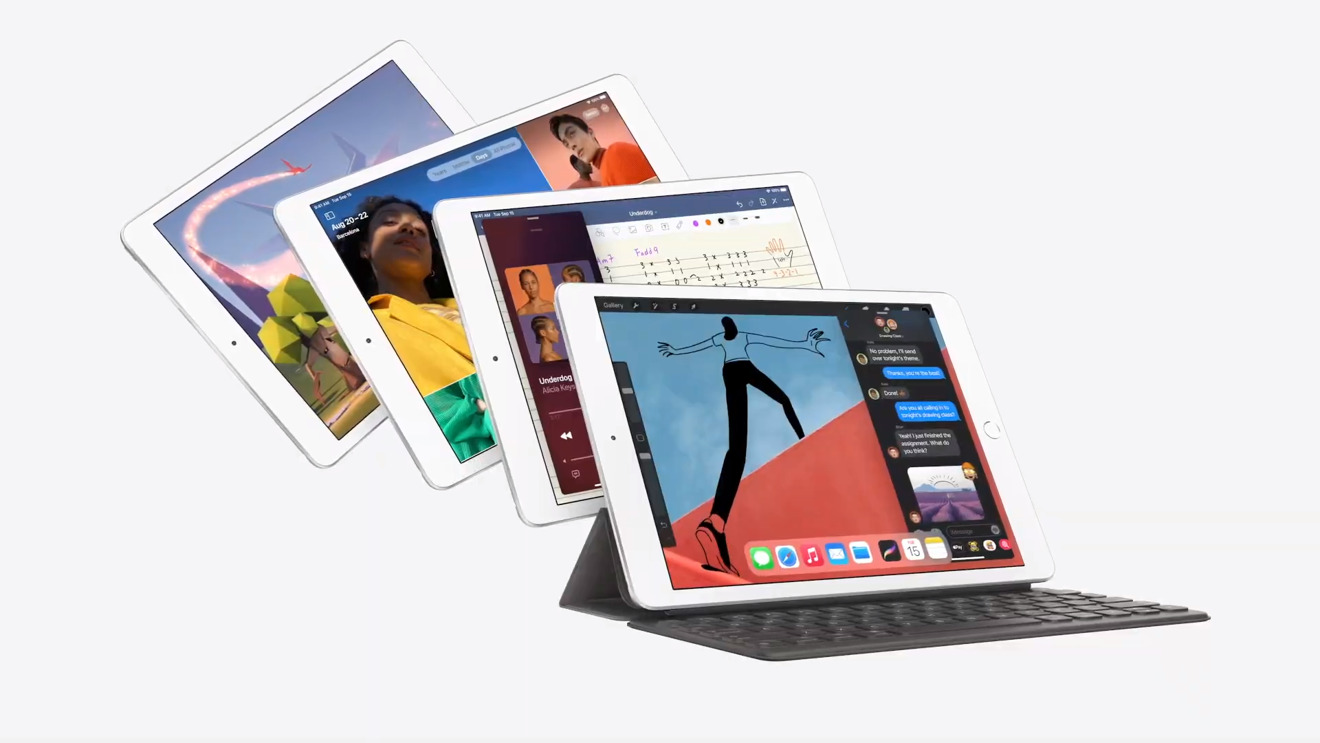 The eighth generation iPad
Apple's entry-level iPad also got a refresh, albeit somewhat less notable than that of the new iPad Air. It still features the same 10.2-inch screen of the generation before, with the same screen resolution, screen brightness, and support for the first-generation Apple Pencil.
Like the seventh-generation iPad, the new 10.2-inch iPad still uses Touch ID, features the same 8-megapixel rear camera, and gets 10 hours of battery life.
The most notable change is the upgrade to the A12 Bionic processor, which features the Neural Engine. This provides a significant performance boost over the previous two generations of entry-level iPads, which used the A10 Fusion processor.
Apple One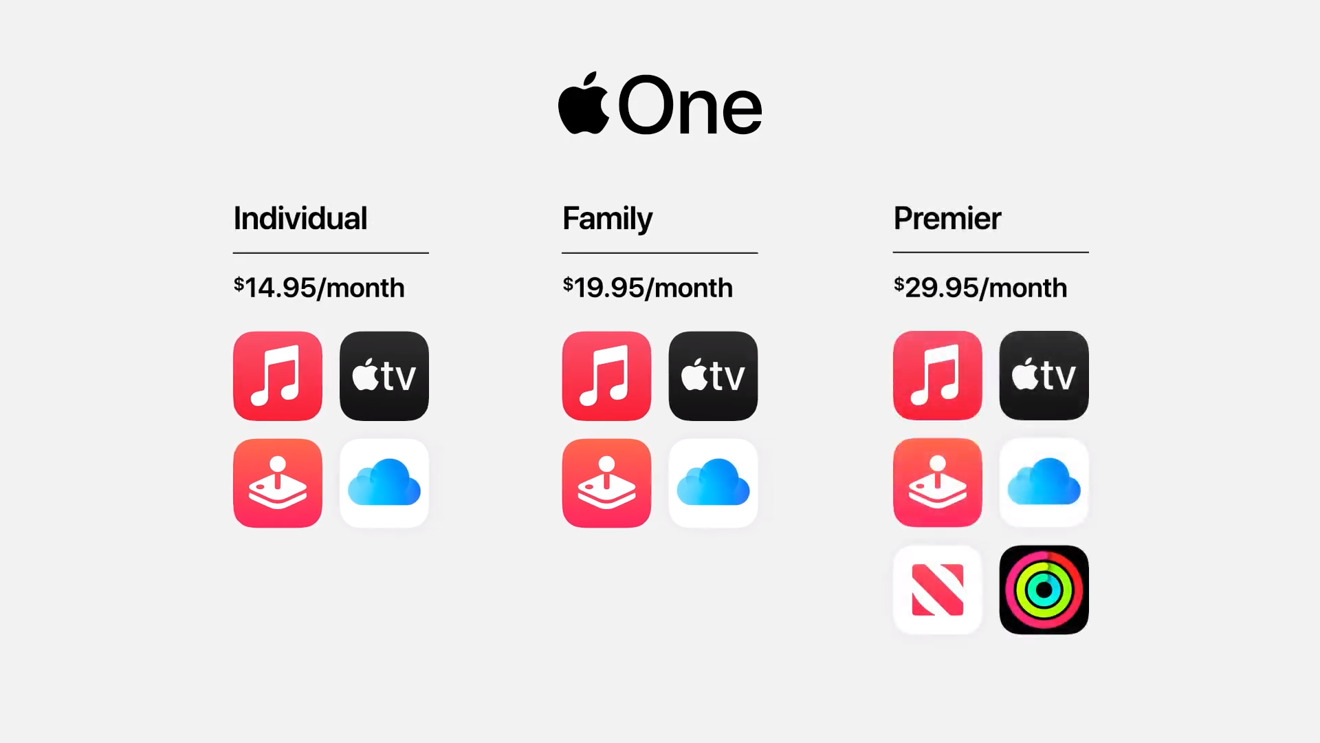 Apple One tiers
Also announced was the release of Apple One, a bundle of some of Apple's most popular Apple services, including Apple Music, Apple Arcade, and Apple TV, among others.
Apple One launched with three tiers: Individual, Family, and Premier.
The "family" plan includes Apple Music, Apple TV+ and Apple Arcade, with 200GB of iCloud storage, and the ability to share among up to six family members, for $19.95 a month.
The "Premiere" package will offer those plus Apple News+ and the new Fitness+ for $29.95 a month, and can also be shared with up to six family members.
Fitness+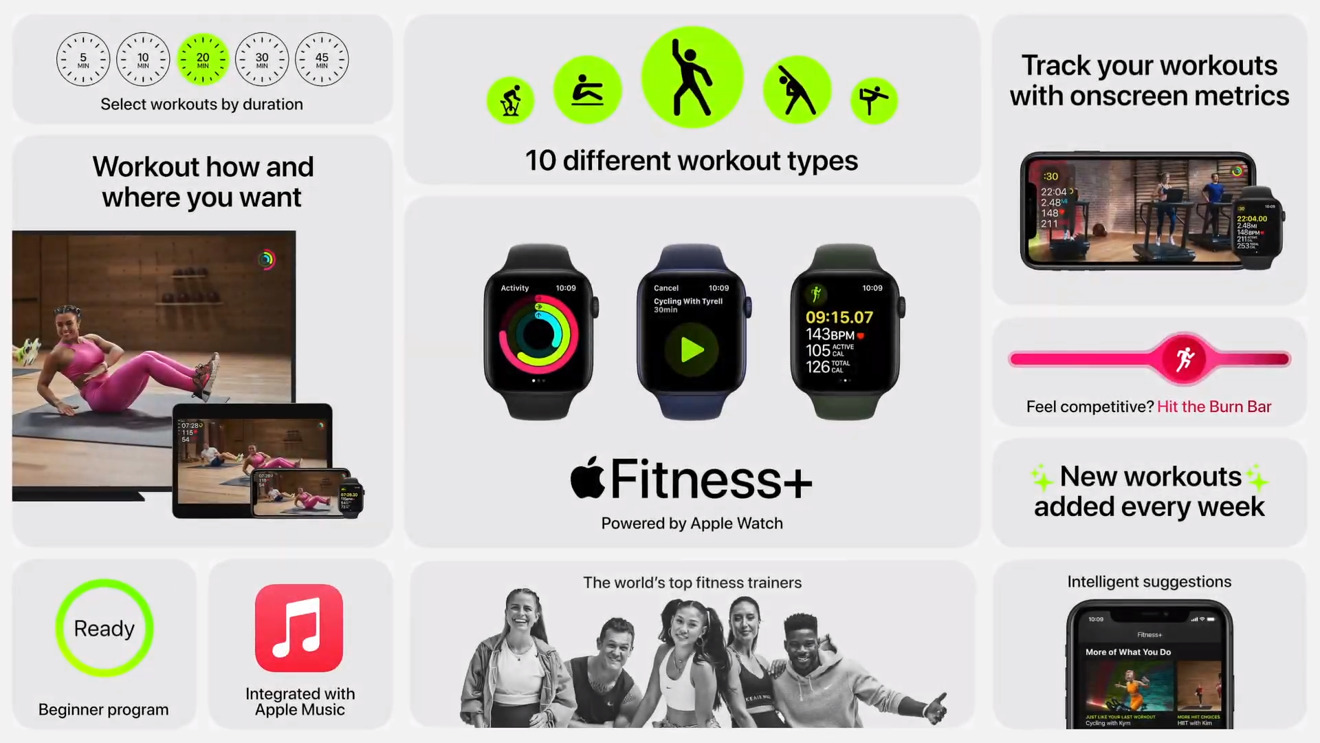 Fitness+ helps keep Apple Watch wearers active
For users who have an Apple Watch Series 3 or newer, Fitness+ allows wearers to perform guided fitness routines. Displaying a workout on an iPhone, iPad, or Apple TV, the app will monitor the user's movement via sensors on the Apple Watch.
The service features hand-picked trainers who cover a wide swath of workout types, including HIIT, Yoga, and Strength Training, and will be updated weekly.
Data from the Apple Watch will appear on the screen as an overlay, so users can keep track of their progress without needing to look at the Apple Watch. This will include notifications for reaching fitness goals on their rings.
Fitness+ is priced at $9.99 per month, or $79.99 per year, with a 30-day free trial for anyone to try. Those who buy a new Apple Watch Series 3 or later, starting on September 15, 2020, get three months of Fitness+ for free. It can be shared with five other people in a Family group at no additional cost.
Family Setup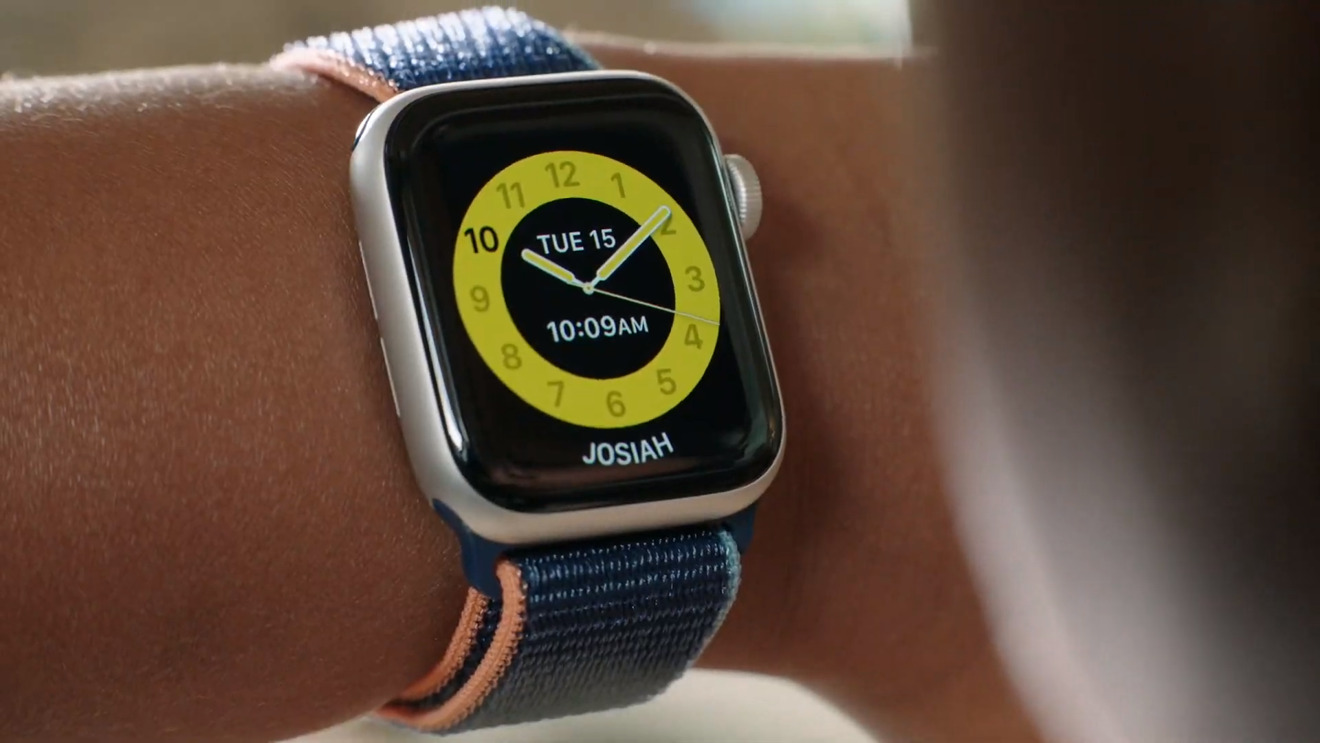 Family Setup offers a new distraction-free watch face for children
Apple has also announced that all cellular Apple Watch Series 4 and later can now be worn by children and managed by their parents.
The feature is called "Family Setup" and is designed to offer children — or any family member who may not own a cellphone — to use Apple Watch. This allows the wearer to make audio FaceTime calls, text, use the calendar, and more.
New Watch Bands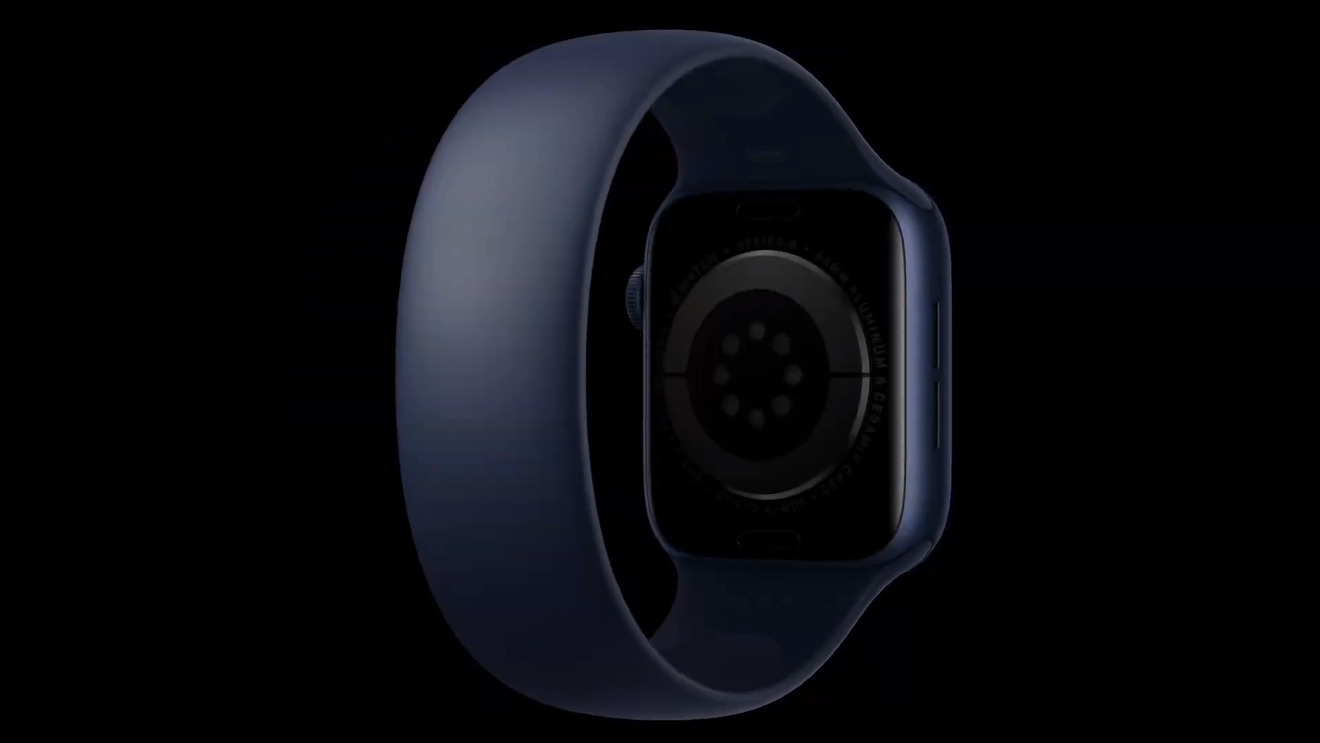 The Apple Watch Solo Loop is made of a single piece, stretchy silicone band
Apple also released a few new Apple Watch bands, including one-piece stretchable bands. The Solo Loop is a flexible band crafted from custom liquid silicone, while the Braided Solo Loop is made from recycled yarn interwoven with silicone threads.
AppleInsider's Best and Worst of the September Event
AppleInsider covered Apple's "Time Flies" event on Tuesday, and as expected, each staff member was impressed — and maybe even let down — by something different. Here's what we thought of Apple's new offerings.
Mike Wuerthele
In the last 20-plus years that I've covered Apple both public-facing and privately, I've attended some presentations but more often covered more from this chair while other people waded through the crowd. This is now Apple's second remote briefing, and I hope that they do it this way for the rest of time.
I'm not a full-time Apple Watch user. My primary device is my Mac, and the Apple Watch is one step too far down the line of devices. I understand why people swear by it 24/7, and everything Apple announced on Tuesday will just enhance that. The Apple Watch Series 6 isn't revolutionary on a year-over-year basis, but it doesn't need to be — nearly every release from any tech company is best looked at a two-year lens.
The Apple Watch SE neatly solves the X=X-1 marketing problem inherent to selling an older Apple Watch with a lower series number. But, I was hoping for that plastic Apple Watch for a few different personal reasons.
Continuing to look through that two-year lens, there are a lot of changes in both iPads unveiled yesterday. The iPad Air redesign is a herald of what will eventually work its way down to the iPad line, with some aspects like Touch ID in the power button perhaps trickling up to the iPad Pro. Both are enough to get new buyers, but maybe the ones who bought a year ago should wait. We'll see.
Regarding the every-event complaints that Apple's simple product matrix isn't, take a minute to look at competitors and consider the company's differences since that 2×2 and then 2×3 matrix was announced about 15 years ago. Apple is now serving more than an order of magnitude more folks than it was then in just the iPhone alone, spanning a larger range of needs and interests for mobile devices.
We're still only looking at five different iPads, differentiated in size and performance. There are still only two Apple Watch models and two sizes of each, and (today) how many Mac models there are depends on how you want to break it up by size. It's not hard to figure out.
Anyway, the Apple One bundle will save me a pile of money per month. Admittedly, your mileage may vary. The Family Setup on the Apple Watch hints to a larger program down the way, spanning more devices, but we'll see how that goes.
Overall, for a no-iPhone September event, it brought a lot to the table. And, we're not done for the year yet, with that "iPhone 12" and Apple Silicon waiting in the wings.
Mikey Campbell
I really liked the iPad Air. Its Apple's first device to use the new A14 chip, and will bring massive performance to the line. The new iPad Pro design and colors are slick, it has fast connectivity, and is (relatively) affordable, so what's not to like? I'm still a fan of Face ID, but I know more than a few mask-wearing folks in the medical field who are going to love a powerhouse tablet with fingerprint authentication.
I was less fond of the Apple Watch Series 6. It is a largely iterative update. I was hoping for a few more features to get added to the line, but blood oxygen sensing and the U1 chip will have to do.
Amber Neely
I was not expecting to go into the "Time Flies" event and wind up getting excited about the iPad Air, but Apple certainly changed my mind there. I've owned a couple of iPads in the past, including a first-generation iPad Pro, and I have loved them. The iPad Pro wound up replacing my Wacom Intuos tablet entirely, works great as a mobile workstation, and is often the only piece of tech I bother taking when traveling.
However, the device is getting a bit long in the tooth. It doesn't have the battery life that it used to, and I've desperately wanted to use the second-generation Apple Pencil. I had planned on eventually upgrading to a new iPad Pro, but then Apple debuted the new iPad Air.
The 10.9-inch tablet is perfect for someone who likes to carry as little as possible when heading out the door. Its ability to work with both the Magic Keyboard and the second-generation Apple Pencil are big plusses in my book. Not to mention, they're definitely after my heart with that sky blue model.
I wasn't impressed by everything, though. I was pretty disappointed when Apple announced the Apple Watch SE and it didn't come in plastic.
I had built up a lot of hope for a plastic Apple Watch that came in all the fun colors of an iPhone 5c and started at a lower price point. I've been looking for a good reason to buy an upgraded Apple Watch, and having a coral pink or bright sunny yellow accessory would have sent me over the moon.
Instead, the Apple Watch SE launched — much more expensive than the Apple Watch Series 3, same aluminum case, and no fun colors. My disappointment was palpable.
William Gallagher
I'm definitely buying the Apple One bundle when it's available. For the services that I use right now — Apple Music family sharing, 2TB iCloud storage, and Apple New+ — it represents a saving of about 6 GBP for me. I've no interest in Apple Arcade, but the bundle will save me having to decide about Apple TV+, and it might get me fitter.
It's not often that Apple sells anything on its cost, but alongside the savings with Apple One, there was yet another sign of the company looking to affordability. It's previously released the iPhone SE which is practically an iPhone 11 for $300 less.
Now there's the Apple Watch SE, which isn't really the same as the new Apple Watch Series 6, but is based on much the same technology for $120 less. And while the new iPad Air is more expensive than the new iPad, it's $200 less than the otherwise very similar 11-inch iPad Pro.
Apple is never going to describe its devices as "low cost," and certainly never as "cheap," but it is using "affordable" much more. And in this time when so many people are losing their jobs, that seems like a responsible thing to do.
Malcolm Owen
For most people watching the event, the biggest piece of news to come out of it was the Apple Watch SE. As a new entry-level wearable device, it gives users an option that doesn't mean buying the Apple Watch Series 3, which is quite frankly starting to age a bit.
Sure, it doesn't have the flashy bits that the full-price Series 6 has like the blood oxygen sensor or ECG functionality. What it does have are all the important bits that anyone expects from a smartwatch, and that's what matters.
The new iPad Air may seem like some to be a low-budget iPad Pro, and to a point they're right. You're getting the styling and the performance of an upper-tier iPad model, but without the extras like the speaker system and better cameras. Some people may need that performance, but not all that entails with the Pro tablets.
The 8th-generation iPad is, well, a smaller upgrade, as it is a fair bit faster than the 2019 model, but retains the vast majority of the rest of the spec sheet.
The real winner here is probably anyone who tunes into the Apple event. Apple has used what it learned from WWDC with its prerecorded event to create a slick and information-dense presentation that isn't slowed down by audience cheers and any live issues.
Here's hoping that it continues for the "iPhone 12" launch.
Mike Peterson
The new Apple Watch Series 6 was a highlight with its focus on health, and the quiet addition of the U1 chip will likely turn out to be interesting with "AirTags" over the horizon. While the iPad updates were incremental in nature, the lower-cost iPad does desperately need a design refresh.
Although Apple Fitness+ wasn't groundbreaking by any means, it seems like it could bode well for Apple's overall services goal — particularly since the company is so focused on health. The Apple One bundles could also be enticing for any hardcore Apple services user.
Victor Marks
The best two things that Apple released yesterday were Fitness+ and AppleOne. These two alone are going to make me buy a new Apple Watch. In the past, Apple had worked on making fitness equipment communicate with iOS, but it required special equipment. There was something small like one gym in NYC and one in London. Now, every piece of equipment can work with Fitness+. That's a big deal for me.
But yet, and still, there is no Apple Watch faces SDK. Apple still doesn't want to let developers take control of the main interface, but they have this new Art Face? If Apple's going to bring up great new watch faces again, it needs to be when they let us have the ability to make them.
Stephen Robles
After the pre-produced style Keynote at WWDC and now the "Time Flies" event, I've come to appreciate Apple's production quality and the pace of these new events. At only 60 minutes, Apple was able to pack a significant amount of information and product announcements in a short time.
I've been rocking the Apple Watch Series 3 for a while so I jumped on the new Series 6. My previous watches have been stainless steel, but this time I went with the 44mm Titanium model and the new woven solo loop. The solo loops look great and I'm curious of the fit after using Apple's printable sizing tool.
One of the feature announcements I was most excited for was the new Family Setup on Apple Watch. Getting my kids an Apple Watch for communication and location notifications without having to buy a separate iPhone is a great option, especially considering the new cheaper SE model.
While the new iPad and iPad Air aren't tempting yet as I'm waiting for the next iPad Pro refresh, I'll definitely jump on the Apple One "Premium" services bundle. Considering the services I already pay for it will save some money and give me access to the Fitness+ service when it launches.
Wes Hillard
The iPad Air was the clear standout device at this event. The new design, colors, USB-C port, and Touch ID placement make this an amazing device for most users. People have been quick to say this overshadows the iPad Pro too much, but I don't think so. I plan to buy an iPad Air to use alongside my 12.9-inch iPad Pro, replacing the iPad mini.
The iPad Pro still shines as my primary computer with 1TB internal storage, 120Hz refresh rate, and 10GB/s data transfer speeds over USB-C. Apple's push for AR means that LiDAR will be increasingly important and my iPad Pro still differentiates itself with that sensor. The iPad Air looks like its the perfect size and price to act as my secondary tablet and will be a great daytime carrying companion vs the iPad mini's dated design and specs.
The Apple Watch Series 6 was another iterative upgrade, though I've already placed my order. The blood oxygen sensor is nice, but the features that will actually benefit me is the brighter always-on display and UWB. Apple CarKey is coming and I will absolutely have the first aftermarket ignition system that supports it installed in my car, and having the U-1 chip means unlocking my car with my watch.
Apple One is an easy win for me, as I already subscribe to nearly every Apple service. The savings provided by the Premier subscription will be welcome to my budget.
The event was only an hour long, but a lot was packed in. I believe it showed us a lot about what Apple is planning for their future products and I'm excited to see what the "iPhone 12" and Apple Silicon focused events will bring to the table.
Will Shanklin
I love that iPads are all the rage again. Of course, I don't love that it's partially because of a deadly virus forcing people to work remotely, but I always appreciated Apple's old "post-PC world" vision. It's been fascinating watching it unfold over the last ten years. Magic Keyboard support for the not-quite-pro iPad Air 4 is another step in that direction. iPadOS 14 is a mature platform you can do real work on, and the accessory's keyboard and trackpad can turn the $599 iPad Air 4 into a legit MacBook replacement for many people.
I wish the entry-level iPad had an anti-reflective coating on its screen. I get that it's a $329 product, and I'm probably asking too much from a budget device. But that's the one detail of the entry-level model that's hard for me to go back to. I suppose Apple has trained me well to "need" even the more subtle upgrades in the higher-end models.