Now that you picked up the 10.2-inch iPad, it's time to think about getting a case to keep it scratch-free and looking its best.
If you picked up a new eighth-generation iPad, you might be in the market for a new case to keep it safe. These ten cases can keep your iPad secure, with options to fit any style or budget.
Faraday Folio Case by Incipio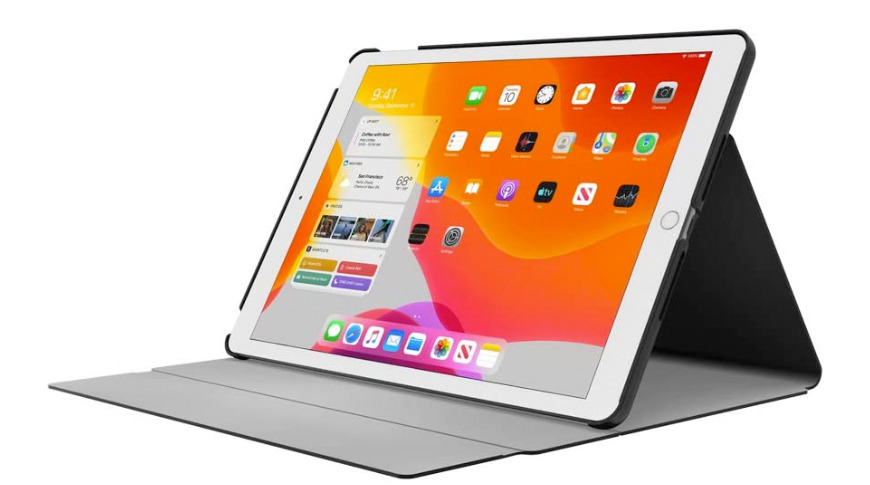 If you're looking for a simple, inexpensive case to keep your new iPad safe, the Faraday Folio Case by Incipio has got you covered. A tough polycarbonate shell keeps your device guarded against bumps, scuffs, and scrapes, and an integrated loop keeps your Apple Pencil close at hand. The fold-over cover boasts faux-suede to keep your screen safe while in tow but can be folded back for multiple viewing angles.
You can pick up a Faraday Folio Case from Amazon for $27.47.
Survivor Tactical Case by Griffin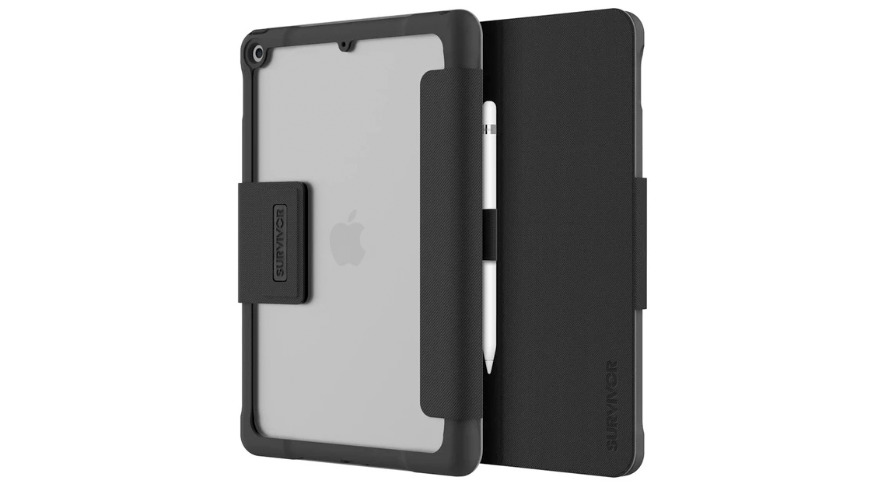 Griffin's Survivor Tactical case
Protect your iPad from accidental bumps and drops with the Griffin Survivor Tactical Case. It features shock-absorbing bumpers around the edge, a durable clear back, and a scratch-resistant coating to keep the case looking good, too. This case includes a magnetic front cover lined with faux-suede, keeping your iPad's screen scratch-free while doubling as the perfect stand for horizontal mode viewing.
The Survivor Tactical Case can be picked up from Amazon for $42.99, with free two-day shipping for Amazon Prime members.
Symmetry Series Clear Case by Otterbox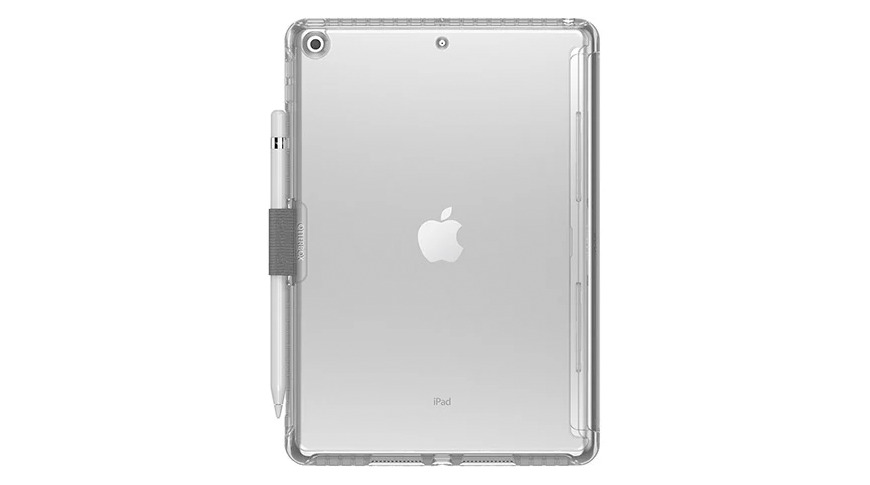 The Otterbox Symmetry Series Clear case
If you're looking for a clear case that guards against bumps and drops, the Symmetry Series Clear Case by Otterbox may be for you. It's crafted from a lightweight polycarbonate case that shows off your new iPad while protecting against everyday wear and tear, bumps, and small drops. The spine is easily removable to allow you to attach a Smart Keyboard or Smart Cover quickly. An integrated loop keeps your first-generation Apple Pencil close at hand.
Survivor AirStrap 360 by Griffin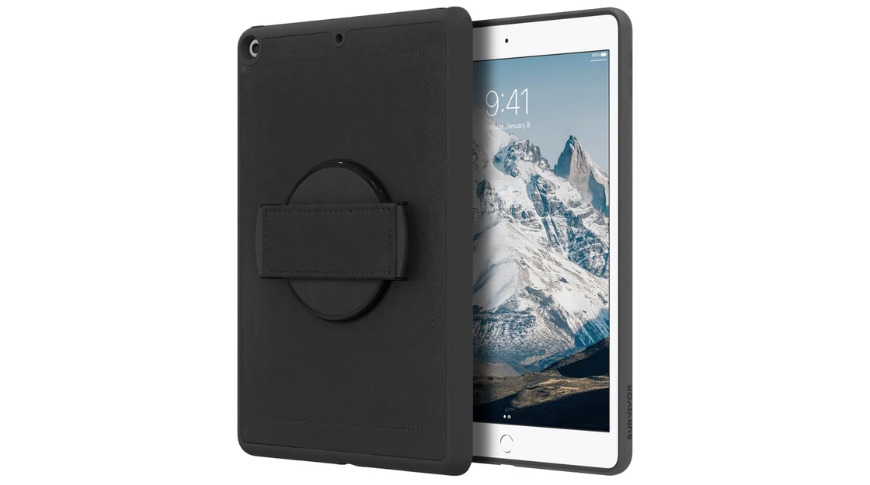 The AirStrap 360
If you carry your iPad with you everywhere you go, the Griffin Survivor AirStrap 360 is a great way to prevent accidental drops altogether. A built-in strap on the back of the case offers a place to slip your hand, giving you a secure grip on your iPad as you go about your day. The frame of the case rotates at 30-degree intervals, allowing you to find the viewing angle that works best for you. The AirStrap 360 also protects your iPad from three-foot drops, accidental bumps, scratches, and scuffs.
The Survivor AirStrap 360 can be purchased from Amazon for $26.16, and can be to your house in as little as two days with Amazon Prime shipping.
Oxford Leather Case by Pad and Quill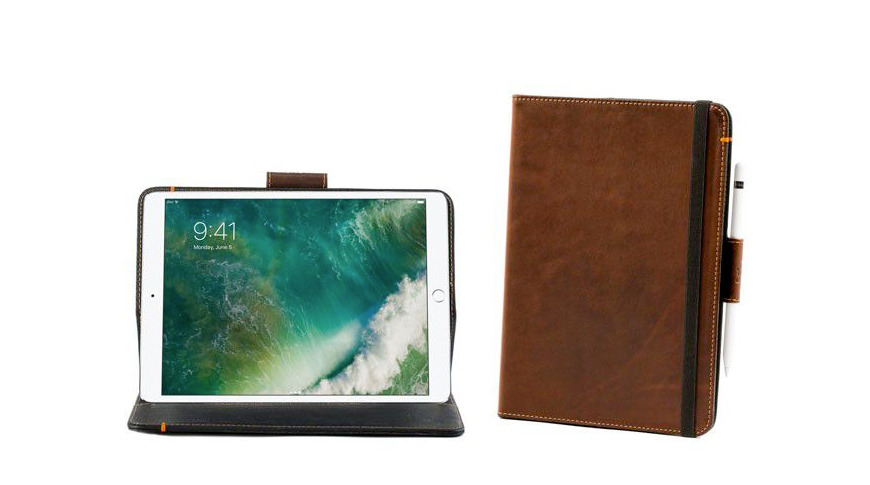 Pad and Quill's Oxford Leather case
Crafted from a single piece of American Full-Grain Bridle Leather, the Oxford leather case from Pad and Quill is a multiple propping position iPad case with an included interior pocket for your odds and ends. It features an Apple Pencil holder, elastic strap closure, and secure locking adhesive technology that releases cleanly and can be reused repeatedly. This case can even fit your Smart Keyboard and allows you to easily view your iPad at the perfect angle for typing.
ProCase Rugged Shockproof Case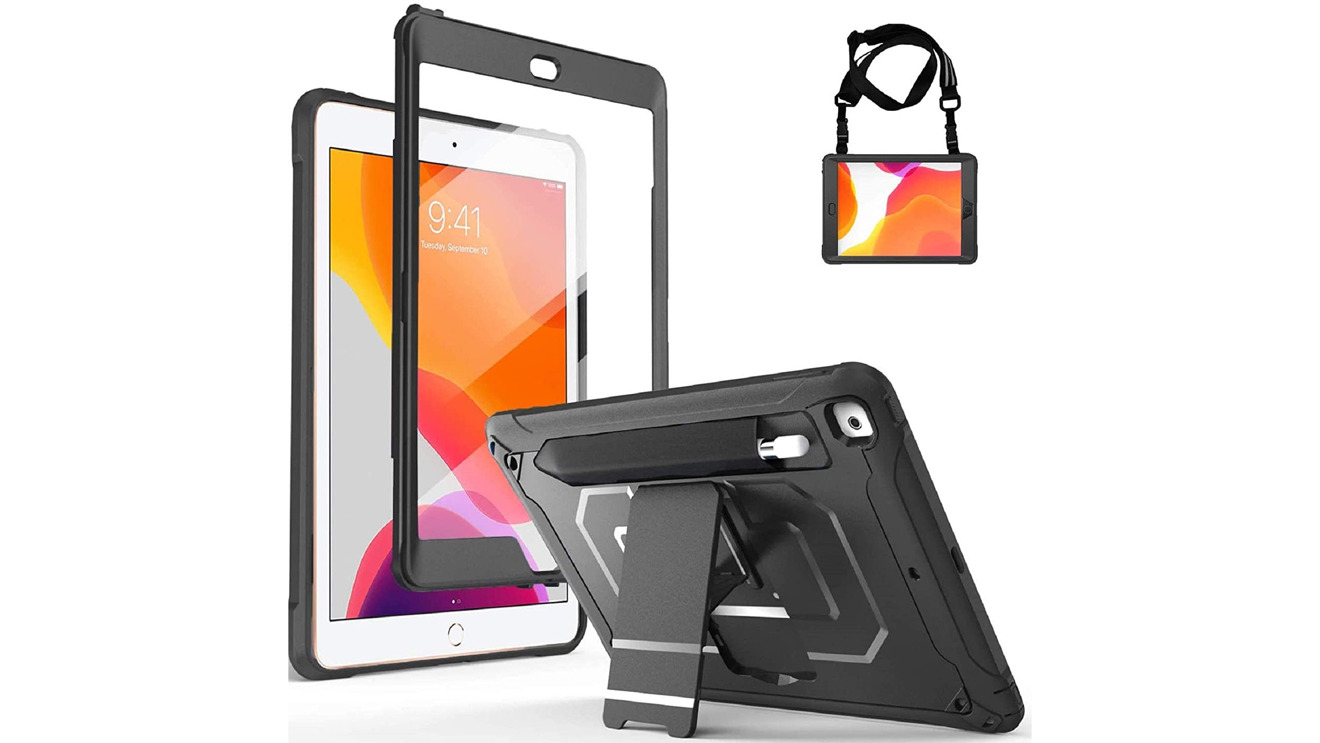 The ProCase iPad 10.2 Case is a rugged case with a built-in screen protector
The ProCase Rugged Shockproof case is a Swiss Army Knife case with a quirky blend of features.
It has a TPU frame with rigid polycarbonate back cover to protect against bumps and scratches. It also includes a built-in screen protector, Apple Pencil loop holder, Apple Pencil cap holder that slides onto the back end of the Apple Pencil, and a kickstand. The case even has a shoulder strap and a backside hand strap that makes it easier to hold your tablet.
The ProCase iPad 10.2 case (eighth-generation and seventh-generation) is available in black, blue, and teal colors. It's available on Amazon starting at $25.99.
Logitech Slim Folio for iPad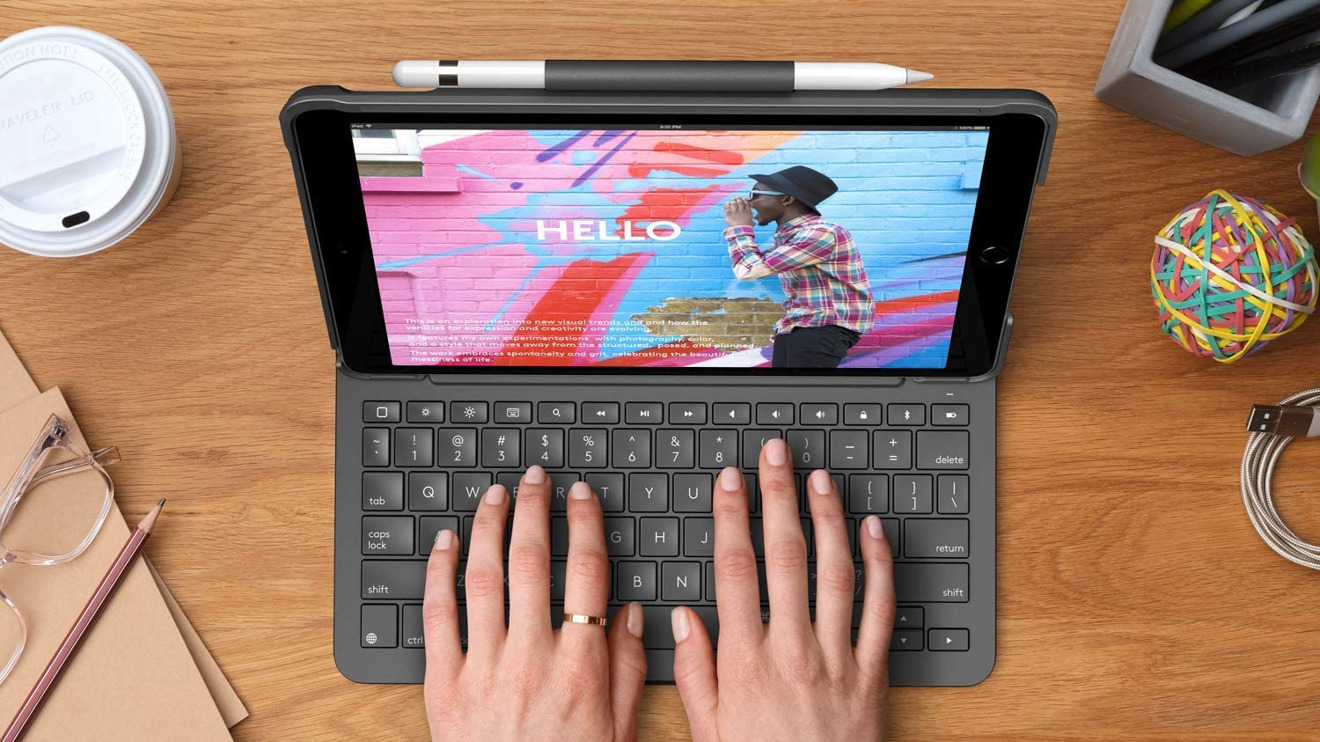 The Logitech Slim Folio case has a built-in keyboard
If you want to add a keyboard folio to your new iPad, the Logitech Slim Folio offers both protection and quality keys from one of the most trusted names in typing.
The keyboard connects to the 10.2-inch iPad via Bluetooth Low Energy. It supports two viewing angles and offers a full row of iPadOS shortcut keys, including multitasking, brightness, media controls, and volume.
You won't need to worry about charging, as the Slim Folio has a user-replaceable coin-cell battery that lasts up to four years.
The folio case folds back and magnetically closes for front and back protection. The keyboard isn't detachable, however, making for a thick grip in tablet mode.
BMOUO Kids Case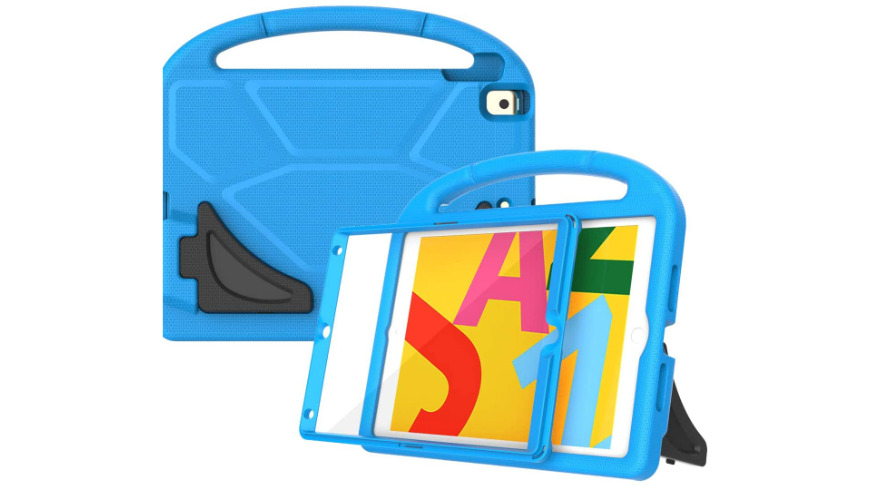 BMOUO Kids Case with handle and kickstands
The 10.2-inch iPad case for kids by BMOUO is lightweight but protective. The shock-absorbent material and built-in screen protector keep the iPad scratch and dent free even from more aggressive playmates.
This case attempts to fit every use case by having a large grippy handle and a built-in kickstand. The case can be ordered in a variety of colors like blue, pink, and purple.
Moko Case Fit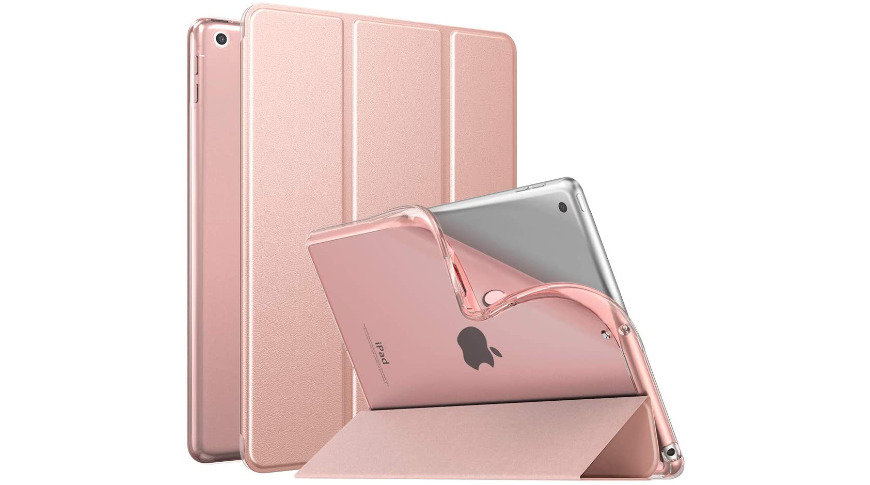 The slim Moko Case Fit
Moko is a company that makes good quality Apple accessories of many kinds. The MoKo Case Fit for the 10.2-inch iPad wraps the iPad completely for total protection. The case can be configured with several different colors or designs.
The front cover acts similar to the Apple Smart Cover with a magnetic folding system. The magnet will wake or sleep the iPad when opened or closed. It also sets up as a stand for viewing or typing angles.
Casemade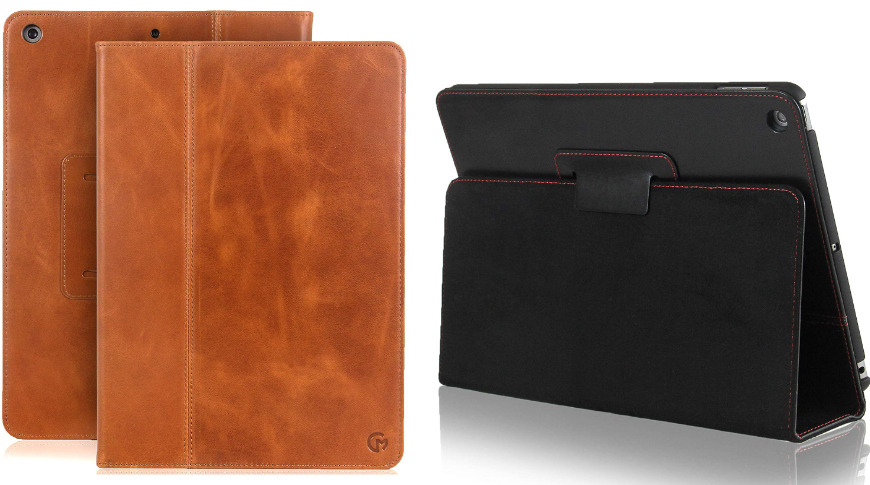 The Casemade Leather Case for the 10.2-inch iPad
If you're looking for something with a little more style and luxury, the Casemade Leather Case is built with premium Italian leather. The case provides complete device protection when closed, and the iPad fits snugly within a form-fitted mold.
The front cover has a magnet that will sleep or wake the iPad when opening or closing the case. The cover can be folded to allow typing or viewing angles.
The Casemade Leather Case is available in tan or black leather for $59.00 on Amazon.