The coronavirus dominated the news in February 2020, with Apple being among the first to close its stores. Meanwhile, one Hollywood director revealed Apple's demands on filmmakers, and another bashed the butterfly keyboard.
As February began, we still had no idea just how significant COVID-19 would be, but Apple closed all its operations in mainland China. It was perhaps the first time many of us heard the phrase "out of an abundance of caution," but it wouldn't be the last.
"Out of an abundance of caution and based on the latest advice from leading health experts, we're closing all our corporate offices, stores and contact centers in mainland China through February 9," said Apple in a statement.
Apple ended up making more statements about the coronavirus than it did products in February. The impact of the pandemic soon saw Apple having to revise its financial guidance, the legally-required predictions of what the company expects to earn.
Nobody ever revises their guidance upwards, so as soon as the company opened its mouth to speak about this, investors knew it was going to be bad news. Apple didn't give new guidance figures, but it explained that income would be down because of the pandemic's impact in two different ways.
"The first is that worldwide iPhone supply will be temporarily constrained," said the company in a statement. "While our iPhone manufacturing partner sites are located outside the Hubei province — and while all of these facilities have reopened — they are ramping up more slowly than we had anticipated."
"The second," it continued, "is that demand for our products within China has been affected. All of our stores in China and many of our partner stores have been closed."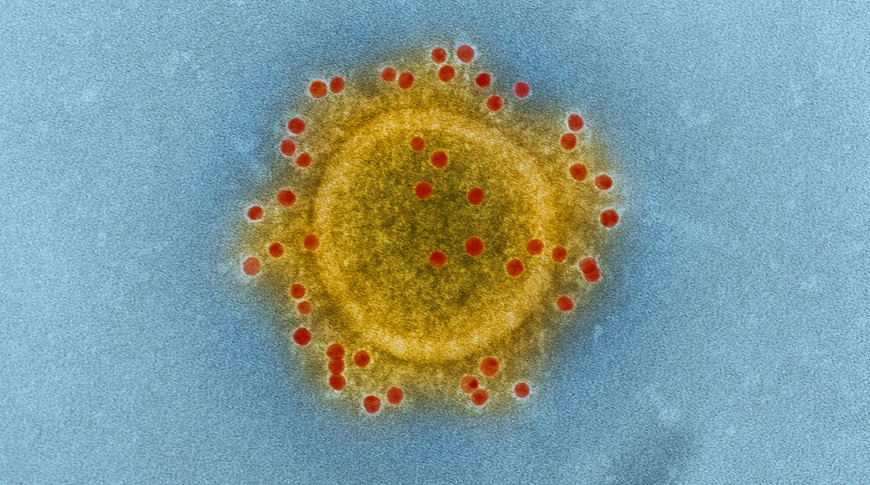 Coronavirus
As Apple was issuing that formal statement to the world's press, CEO Tim Cook was issuing an internal memo to all staff.
"Our first priority — now and always — is the health and safety of our employees, supply chain partners, customers, and the communities in which we operate," he wrote. "Our profound gratitude is with those on the front lines of confronting this public health emergency."
As the month continued and, at least it seemed, the coronavirus situation was becoming better understood, Cook sounded more confident in press interviews.
"Things are going pretty much like they thought they would go there in terms of bringing things back," Cook told Fox Business, "and so it'll take some time, but by and large we think this is a temporary condition, not a long-term kind of thing. Apple is fundamentally strong, and that's how I see it."
It might seem long term, and Cook's February comments may seem a very long time ago, but he's been proved right over and over again throughout the rest of the year. At the time, too, Apple's missing its revenue predictions didn't cause as much fuss as previous ones had.
Hollywood steps in
Back in February 2020, there were still such things as awards ceremonies where presenters and winners could actually stand next to each other. Possibly, then, Apple might have wished that the Oscars had taken place a little later this year.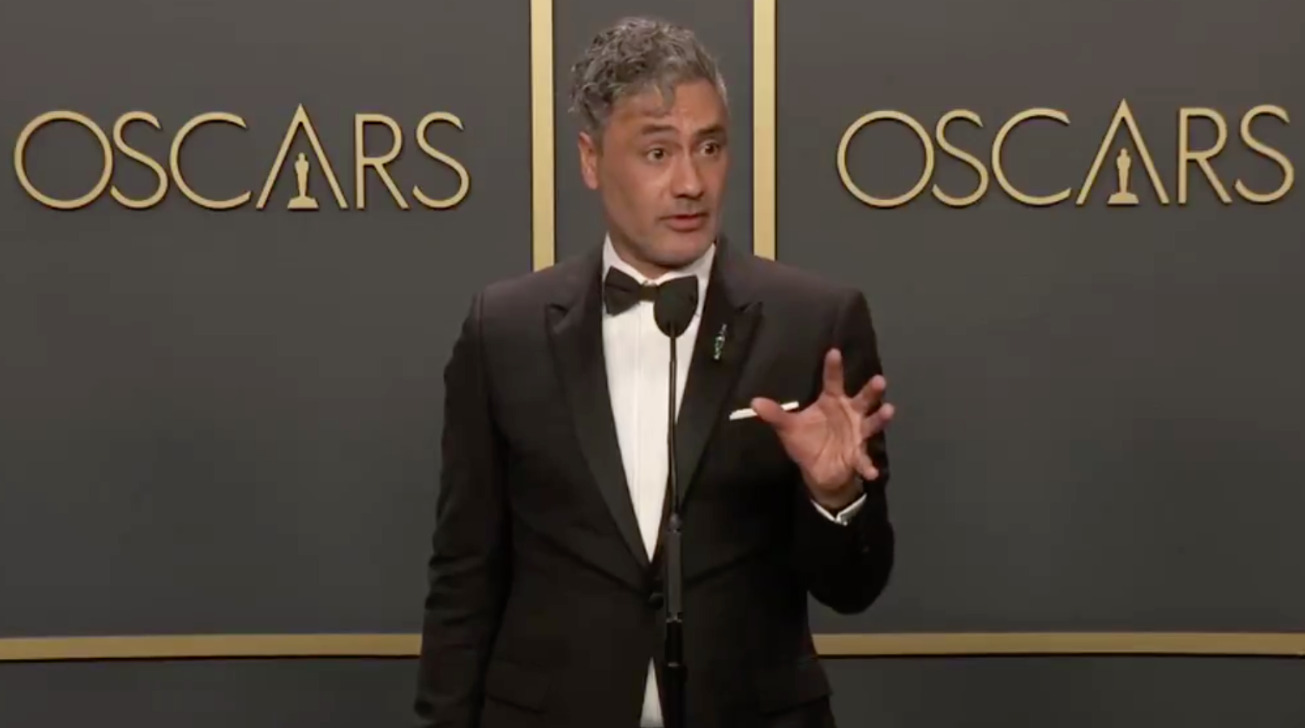 Taika Waititi
For after he won the Academy Award for Best Adapted Screenplay — for the film "Jojo Rabbit" — writer/director Taika Waititi took his chance to criticize Apple. Hollywood was in a dispute with the Writers' Guild of America and Waititi was asked what the WGA should be asking for.
Rather than wade into the complex issues of agents and representation that ten months later would be no closer to being resolved, Waititi went for Apple's butterfly keyboards.
"Apple needs to fix those keyboards, they are impossible to write on [and] they've gotten worse," he said. "We've just got to fix these keyboards. The WGA needs to step in and actually do something."
As that director complained about what Apple does with its MacBook Pro, another one was revealing what Apple does with filmmakers. "Star Wars" and "Knives Out" writer/director Rian Johnson told of how stringent Apple's conditions are about when you want to use an iPhone in a movie.
"I don't know if I should say this or not," he said, "Not 'cause it's lascivious or something, but because it's gonna screw me on the next mystery movie that I write. But forget it, I'll say it, it's very interesting."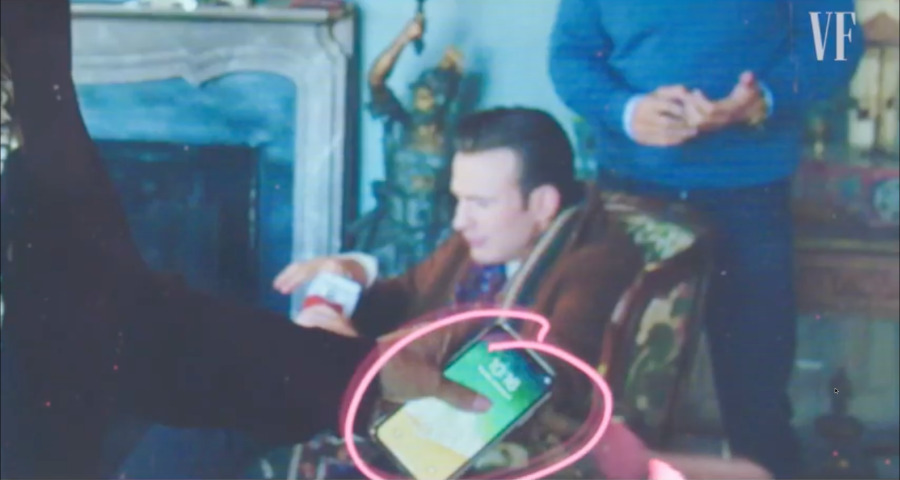 Still from Rian Johnson's Vanity Fair video as he points out which "Knives Out" character has an iPhone and so cannot be the baddie
"Apple, they let you use iPhones in movies, but — and this is very pivotal — if you're ever watching a mystery movie, bad guys cannot have iPhones on camera," he continues. "Every single filmmaker who has a bad guy in their movie that's supposed to be a secret wants to murder me right now."
Apple is far from the only company that sets conditions on the use of its products in films, and if they were unhappy with Johnson revealing it, they didn't say. Whereas they did complain, and loudly, when certain other little-known issues were revealed in a book.
Legal issues
It wouldn't be a regular month if Apple weren't involved in some legal action or other, but sometimes it's the one being sued, sometimes it's the one suing. Or at least, it's the one taking unspecified legal action that starts with lawyers writing serious letters.
"App Store Confidential" by former Apple manager Tom Sadowski was published in Germany and, according to the lawyers, contained "business secrets… of considerable economic value."
Reportedly, Apple wanted the book stopped, all copies in distribution recalled and destroyed, and possibly all early purchasers to face a strong finger-wagging. Whatever Apple wanted, it didn't get it — the book is still available.
You can even buy it on Amazon in the US, though only in a German edition. Either the threat of Apple's displeasure was enough to stop an English translation, or US publishers figured the book wasn't that interesting.
As well as the "business secrets" argument, though, Apple also used the line that author Tom Sadowski's writing the book had "violated his employment relationship." In February, Apple got accused of trying to get around employment issues itself.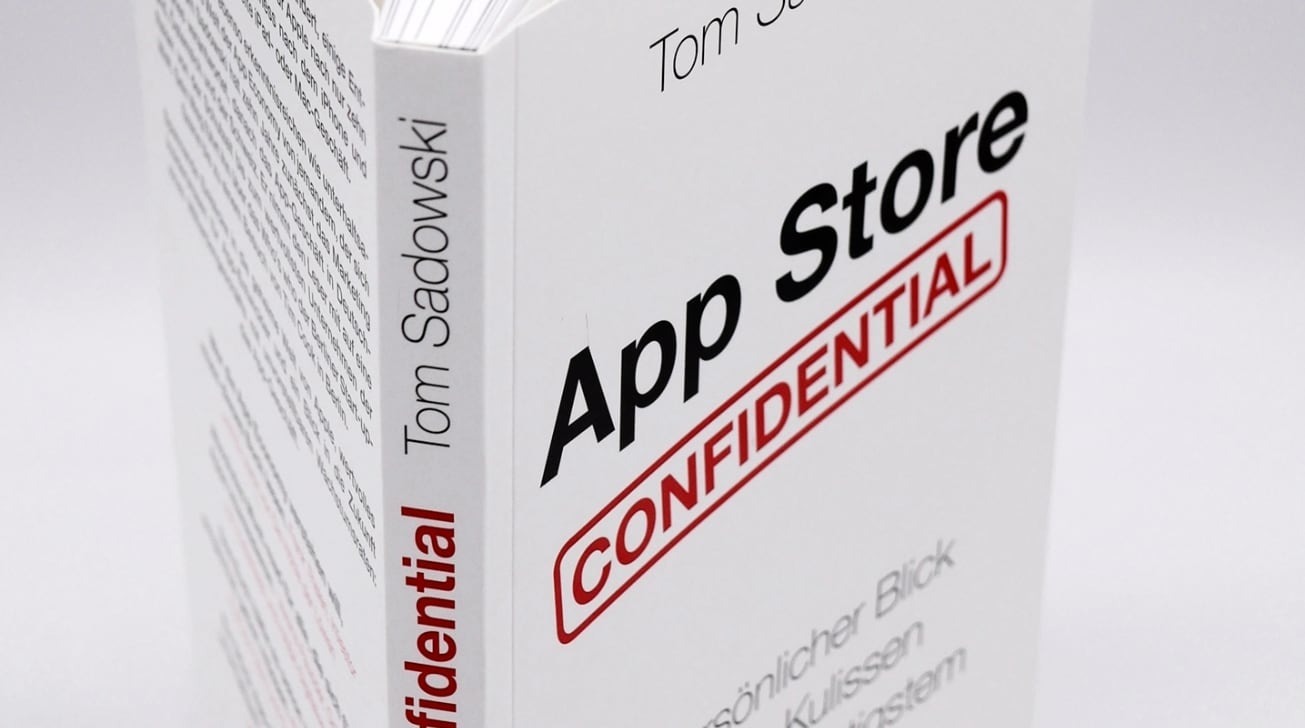 Apple wasn't successful in blocking this German book, but there hasn't been an English translation yet
Former iPhone processor designer Gerard Williams III claimed that Apple had been trying to headhunt staff away from his Nuvia firm. It was allegedly to do with Apple trying to hire Nuvia co-founder John Bruno, but it was certainly to do with a longer-running legal case.
Apple had been claiming that Williams III started his Nuvia company while he was still working for the Cupertino firm. Apple alleged that he'd done so on company time and that he'd tried to recruit from amongst his colleagues.
That way lies the law courts, and possibly Apple asking for Williams III's leaving present back. It's definitely not the way you want to leave Apple or any job.
Going out in style
If Williams III and Apple's case concerned what happened behind closed doors, one departure was played out in full public view in February 2020. Drunkenly, too.
The makers of iOS game HQ Trivia went bankrupt, and as part of that game involved live broadcasts, we all got to watch. On the final show, its two on-air presenters were freely drinking while also giving out prize money from their own back pockets.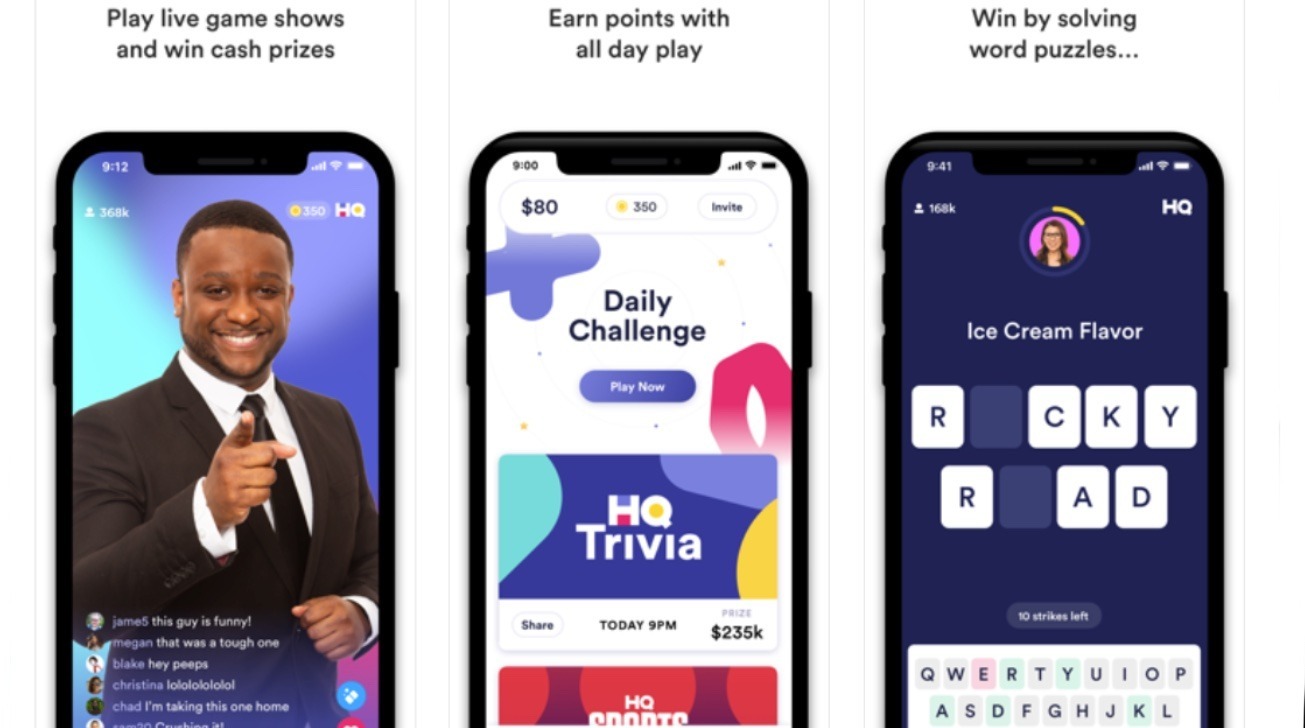 HQ Trivia bowed out in bankruptcy with a drunken episode, but it's okay, it came back again later
"Someone hire me! I'm talented," said presenter Anna Roisman. Seemingly she is — she's a writer, producer, actor and comedian — and fortunately seemingly someone did hire her.
Except it's the same company that ran HQ Trivia. And while she presents HQ Words, it appears that HQ Trivia has resumed.
So the drunken episode was funny, plus Roisman and her co-presenter Matt Richards' unemployment appears to have fortunately been shortlived. Apple sued and was sued, secrets were revealed, and as if the coronavirus was about to hit people hard, in February it looked like it was going to be manageable.
There was one particularly sad note right in the middle of the month, however. Larry Tesler, the man who showed Steve Jobs around for his famous tour of Xerox PARC, died aged 74.
As well as that fateful tour were what Jobs soaked up would shortly come out in the Mac, Tesler invented copy and paste. You didn't even realise it had to be invented by anyone, but it did, and it was Larry Tesler who did it.