In the wake of Apple's stellar holiday quarter results, analysts have been quick to respond to the $111.4 billion in revenue and other data points Apple raised in its financials. Here's what the analysts think of the results — as well as how far out they were in their predictions.
Apple's first-quarter earnings for 2021 were revealed on January 27, with the iPhone maker securing record-breaking revenue from sales over the holiday season. As well as achieving $111.4 billion in revenue, the company saw massive growth across all product categories, with considerable year-on-year growth observed for the iPad and Mac segments.
Ahead of the results, analysts offered their predictions of what to expect from the company in its quarterly disclosure, and all were extremely positive in their expectations. Naturally, in the days after the results announcement, analysts returned to their keyboards to offer their hot take on what Apple earned.
Cowen
Cowen deemed the results to be "well above consensus forecasts" with robust year-on-year growth from all hardware segments, and a standout gross margin "given higher shipments and favorable iPhone 12 Pro/Max mix." Based on comments on upgrader and switcher trends, as well as the slower rollout of 5G in Europe and Latin America, Cowen thinks the 5G cycle can be a "long and strong one."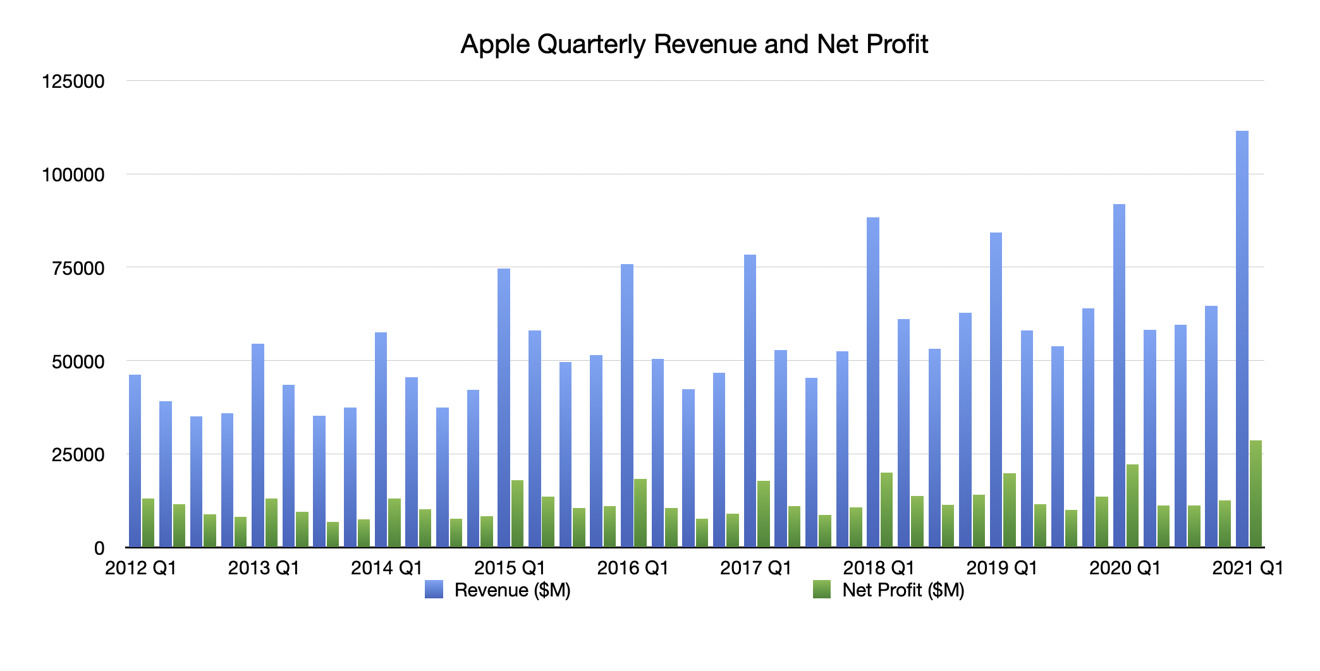 It estimates iPhone shipments were around 80 million, more than its 77 million forecast, with a 6% higher YoY blended average selling price. China was a tailwind for the quarter, due to the "pent-up demand," while India could be a "material driver of units in the long term" due to how it "feels like China 8-10 years ago, with a nascent developer ecosystem and lack of retail stores."
In its pre-results forecast, Cowen thought Apple would reach $104.5 billion for the quarter, with iPhone revenue at $60 billion and Services revenue at $16 billion. In reality, iPhone revenue hit $65.6 billion, while Services managed $15.8 billion.
Wedbush
Characterizing the results as a "jaw dropper," Wedbush deemed Apple's results to be "well above even the most bullish whisper numbers." The success of the iPhone 12 was "Usain Bolt-like," and is well on the path to meet "supercycle hype."
"Based on the underlying strength of the iPhone 12 5G sypercycle with China growing 57% YoY, the reality has even exceeded the hype with Cook & Co. delivering a product cycle for the ages that will help transform Apple into its next phase of growth," the analysts believe.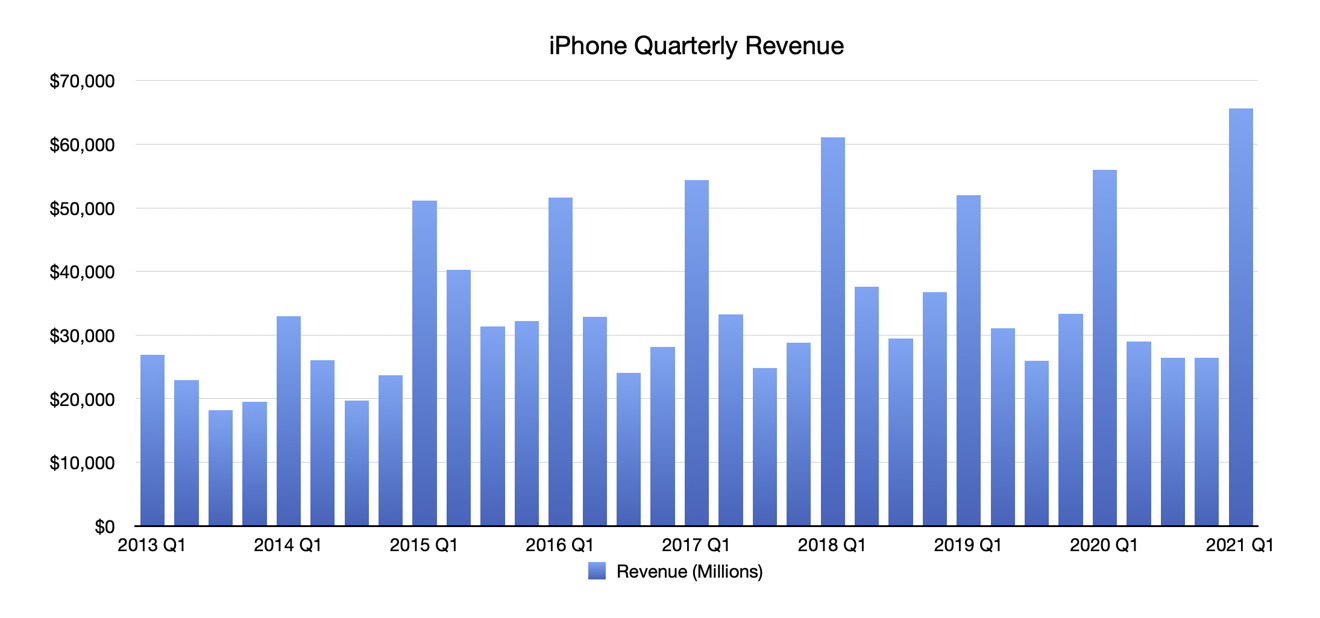 Quarterly iPhone revenue
China demand is a "linchpin" for the supercycle, with estimates that 20% of iPhone upgrades will stem from the region in the coming year. Apple's march to a $3 trillion market cap is also "firmly on track" to happen in the next year, with a "massive services business worth $1 trillion" potentially becoming a catalyst for share activity for the coming quarters.
The forecast expected "eye-popping" iPhone shipments in the low-to-mid 90 million range, with overall revenue of $100.2 billion.
Loup Ventures
The narrative for Loup Ventures was that the results showed an "accelerating digital transformation" for the company and society, with the upside "driven by nearly every product category" aside from the supply-constrained Mac segment. "Further evidence of this transformation is the company reporting historic revenue during a time of historic financial stresses for consumers."
It believes Apple's "best days are still head" because of a digital transformation "that we cannot yet fully comprehend." This acceleration will continue to affect 2021's revenue, with more people used to working, learning, and playing at home, providing a "continued tailwind" for iPad and Mac that could grow 10% or more in 2021 and 2022.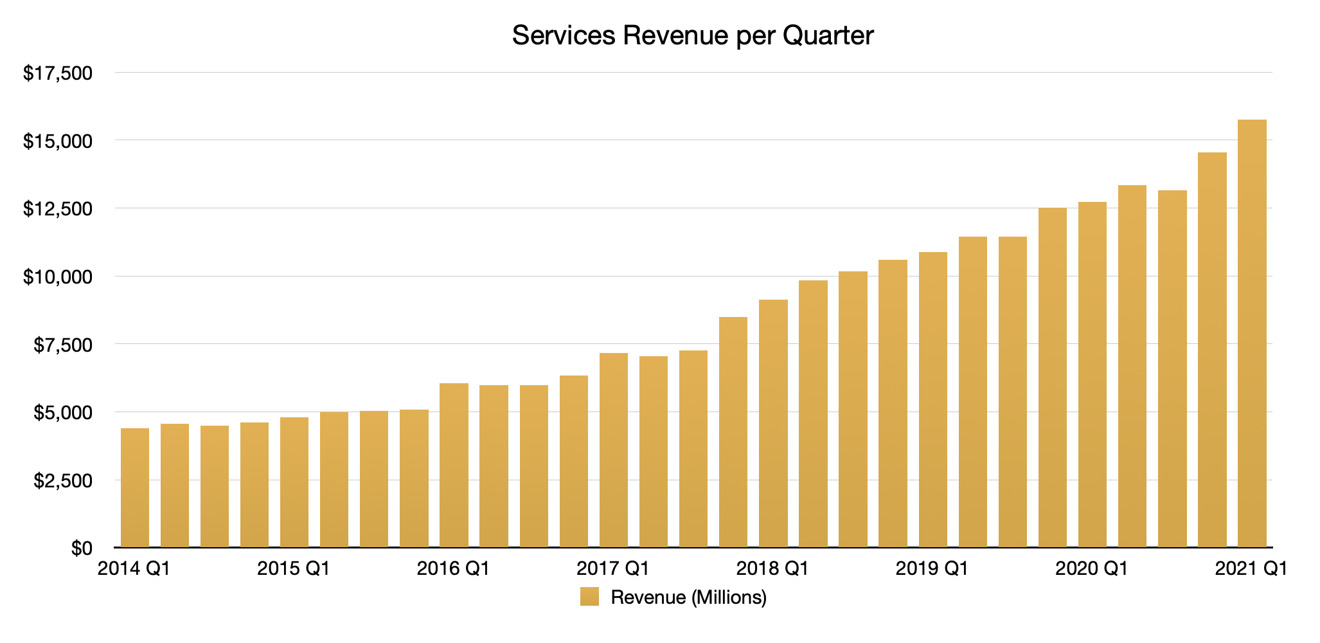 Apple's quarterly Services revenue
Services growth benefiting from "pandemic-related consumer habits" will enjoy the extra tailwind for the better part of 2021, in theory. Meanwhile, enthusiasm for 5G will "grow in the back half of the year," to start a two-year or three-year iPhone upgrade cycle.
Loup Ventures predicted revenue of $109.5 billion, with iPhone up to $64.9 billion, iPad at $8 billion, Mac at $10 billion, Wearables up 17% YoY, and Services at $15 billion.
Morgan Stanley
Following Apple's results, Morgan Stanley raised its price target for the company to yet again $164, with highlights in the results including "faster iPhone share gains, installed base growth, and services monetization." These elements, as well as continued remote work and education and an updated product lineup, could provoke double-digit growth for several quarters.
An acceleration of Apple's installed base growth from 7% to 10% and services monetization, along with the China market's recovery, also indicate overall faster growth in the long term.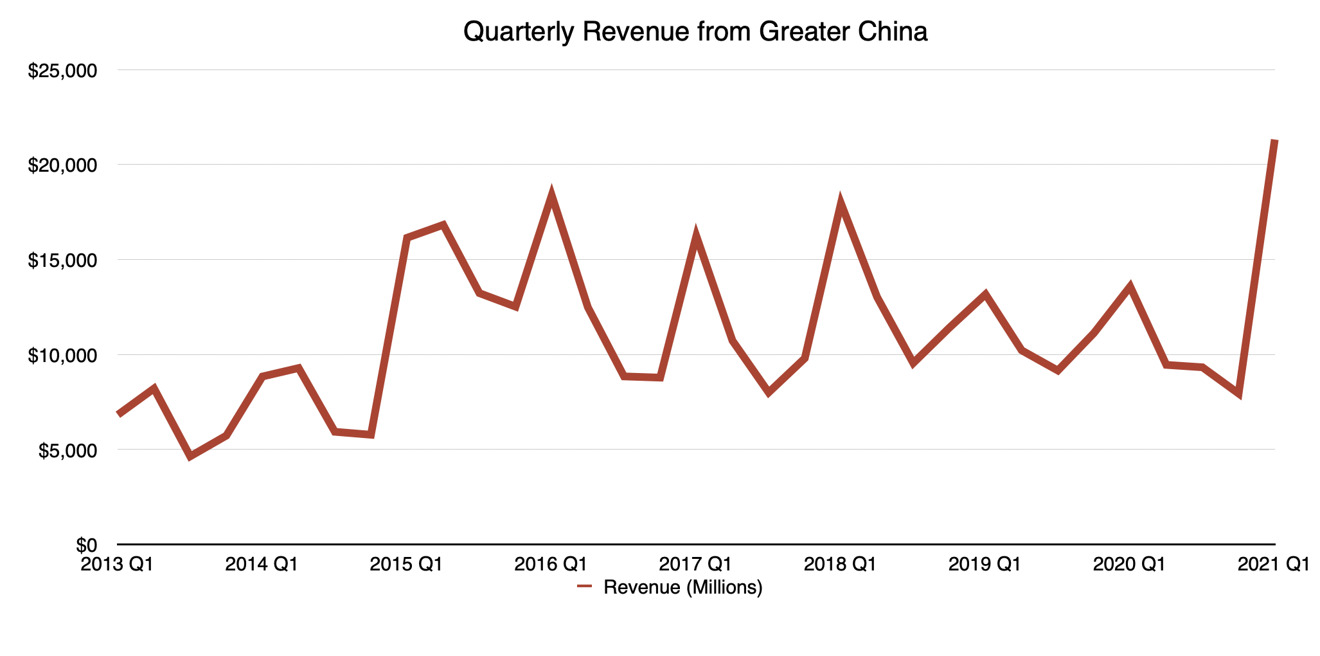 Apple's quarterly revenue from Greater China
For the March quarter, seasonal growth is implied for iPhone, iPad, and Mac, with an improved Services forecast due to it outperforming in the Q1 quarter.
Ahead of the results, Morgan Stanley raised its price target from $144 to $152, as well as predicting revenue of $108.2 billion, 78 million iPhone shipments, and $63.9 billion in iPhone revenue.